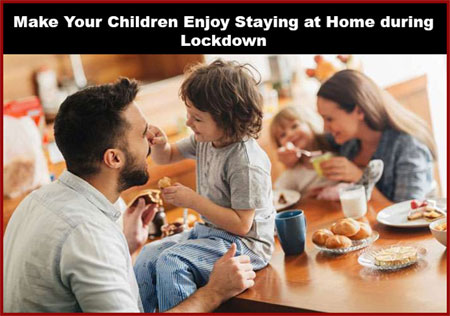 Make your child enjoy staying at home during vacations by keeping her engaged in fun indoor activities. Learn some creative ideas that will help you make your child stay at home and enjoy.
Parents find it really very difficult to keep their children engaged in activities during vacations. Well, nothing is hard if you know the tricks and find out ways in which you can encourage your child to enjoy staying indoors. You must know how to spark creativity and fun at home to help your child enjoy staying at home during vacations.
Life can be hectic for most of you at times and this is the time when parenting seems to be the most difficult and challenging task. One of the most tedious one is when your kids have to stay at home during vacations and you want them to enjoy the time. Well, here are some tips and creativity ideas that will help you make your child stay at home and have a lot of fun time too during vacations.
Ways to Make Your House Fun during Vacations
Here are some ways to help your children have fun at home during vacations.
Encourage Your Child's Interests
Every child has her own interest and where some like to colour and paint, some prefer singing. Let your child feel free to rhyme and make poetry of her own. You can also let her make some painting from her imagination. The only thing you need to keep in mind is that let her do something that she loves by giving her some tips also. You can also allow your child to make something out of craft by giving her paper.
Writing Messages On the Wall
Provide an old soap piece or any soft soap so that your child writes messages on the bathroom tiles. The message can be funny, silly or perhaps useful also. Your child will enjoy this a great deal and wait for the next morning to put another message.
Craft Time
Children love to tear papers. You can show your child how she can make different things by tearing the papers.
Pet Time
Let your child spend some time with pets if you have them at home. However, it is advisable to stay with your child during that time so that she enjoys completely and at the same time she is safe from such pets as well. Make sure you clean your child's hands and change her clothes after this activity. Make sure that the pets are vaccinated to be on a safer side.
Dining
Children also get bored by eating at the same place every day. You can place your child's chair in the backyard or in the balcony so that she enjoys outdoors along with having her meal.
Allow Gorilla Art
You will be surprised to learn how creative your child is if you allow her to work on easy gorilla art projects. She will give eyes to everyday products and write sugar, salt, tea and other names on the respective bottles and jars if allowed.
Provide Natural Canvas
Children find fun in writing and drawing on different surfaces. Provide chalk to let them fulfill their interest by drawing on logs or sideway or hallway which you can rub off and clean after some time. You can also provide your child the dry erase paper roll or board where she can write messages or draw which could be rubbed off later.
Spend Quality Time Together
Along with engaging your child in activities that she would do on her own, you can club together and enjoy music and dancing or perhaps making a collage will make your child extremely happy and satisfied and will engage her for hours or may be days also.
When you want your child to stay indoors you have to work out some activities that your child will enjoy. It is advisable not to stop your child from going outside forcefully. The above ideas will be of some help for you in this regard.
How to make children have fun at home during vacations? How can parents support kids at home? What activities can kids do when at home? Discuss here.