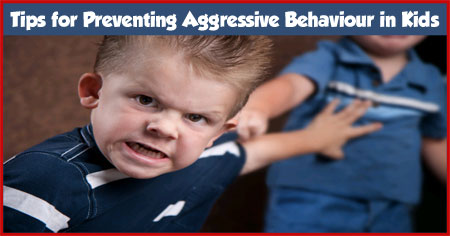 Aggressive behaviour can lead to other developmental problems in children. Therefore, it is essential to prevent such kind of behaviour in them. Here are some tips which you can follow to prevent aggressive behaviour in your children.
Rudra is 10 years old and is very aggressive. At times his parents feel embarrassed in front of others because of Rudra's
aggressive behaviour
. They try to keep cool at times but sometimes situation becomes out of their control. They want to know what exactly is making their kid behave in such aggressive manner.
Parents need to handle aggression of their children by taking special care. Many parents tend to hit their children when they fail to deal with the aggression of their children but this worsens the situation.
Hitting a child
when he or she is behaving very aggressively is a big no-no. Parents have to follow different strategies to handle the aggression of their children and the strategies vary from stage to stage.

Handling Aggression in Pre-School Kids
Here is how to handle aggression in Pre-School Kids
Consistency
Parents must show consistent behaviour while they are dealing with their younger kids. Parents must respond the same manner every time they are finding their child showing the same aggressive behaviour. Eg. every time the elder child hits the younger one, parents must respond saying that hitting is not good. There is no point screaming at the child because they will not be able to change their behaviour only because parents are screaming at them.
Taking the Child Out of the Situation
Parents have special responsibility to take the child out of the situation that is triggering the aggressive behaviour in the child. It may happen that the kid is kicking at the shopping bag because he or she is not given the things that he or she has asked. The child should be taken out from the situation so that child gets to calm down slowly. If parents always fulfil the demands of the child then the child tends to get all his or her wishes fulfilled by showing aggressive behaviour.
Talking to the Child Much Earlier
If parents anticipate that there can be situation that could trigger aggressive behaviour in their children then they must talk to their children much ahead of that situation. Parents should discuss with the children about the appropriate and
inappropriate behaviour
and let their children know what is expected out of them.
Coordination with Caregivers
Parents must interact with the caregivers and the pre-school in case they find that the child is consistently behaving in an aggressive manner. Parents must take daily report about their
child's behaviour
from the caregiver so that aggressiveness in the behaviour can be handled in its initial days.
Handling Aggressiveness in the School Going Children
As a school goer spends quite a considerable amount of time in school, regular aggressiveness in the behaviour has to be dealt with the help of the teachers and other staffs of the school. Parents must have detailed talk with the school authorities and the teachers to know how the child behaves in the school and what the common situations are when child becomes very aggressive. Parents must discuss about the consequences of aggressive behaviour and provide alternatives to the children.
Handling Aggressive Teenagers
Teens must be dealt with little more care. Parents have to give clear message to their teenage children regarding their abusive and aggressive behaviour. Parents cannot accept any justification regarding aggressive behaviour of their teenage child. Parents have to sit with their teenage children to help them build their problem-solving skills. That will encourage the child to handle adverse situation and they will show more patience and over the time their aggressive behaviour would change.
Common Tips to Handle Aggressive Children
Find out the triggers for aggressive behaviour
Keep a watch on the TV programs your child is watching similarly check out the kind of video games the child tends to play
Always praise good behaviour of the child
Parents must give attention to the child and show affection to the child
Parents must know about the friend circle of their kids as peer group can
influence the behaviour of the child to a great extent
Parents should be careful enough in reacting to their aggressive child
Aggressiveness can hinder development of children in to a well-balanced individual. Therefore, it is necessary to check and correct such behaviour of children on time.
What are the causes of aggressive behaviour in children? Is it possible to prevent aggressive behaviour in children? How to deal with aggressive children? Discuss here.