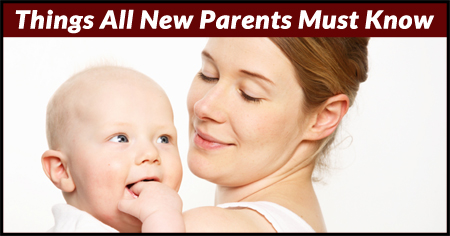 Entry of a newborn in life is blissful but it totally changes the life of parents. The entire routine of parents is changed. So, by modifying the routine, new parents can avoid stress and get back on track easily. Here is what new parents must know.
New parents find it difficult to cope with the responsibilities and hassles that arrive along with their bundle of joy. In fact caring for a newborn is a full time job and it can tire you up. Therefore, you must learn about the practical strategies that can help you deal with your new routine.
A newborn brings in with him lot of activities along with excitement. Because of the round-the-clock engagement and alertness, you will find stress and fatigue a part of life. Well, instead of worrying or getting annoyed it is good to follow the practical strategies that can be of great assistance for you and will also help you take care of your newborn in the best possible way.
Since you have gone through all the physical and mental problems during pregnancy and you have already faced the intense labour pain, you must be tired and exhausted thinking that you will now relax and rest along with your newborn. But things turn out different. In reality, no one can tell you exactly what a life with a newborn would be. With the tips mentioned here you will be able to keep stress under control and also stay away from postpartum blues.
Tips for New Parents

Here are some tips which
new parents
and especially the
new moms
can follow.
Take Care of Yourself
Eat a healthy food, drink plenty of water and get some fresh air also whenever possible. You can take turns with your partner for the night shift so that both of you share responsibility and get proper rest as well.
Do Not Expect Perfection
Since you have been over pressured almost instantly, this is the time when you have to go through everything adjusting and regulating. So, just plan and proceed so that you make the best of adjustment you can during this challenging period. You have to take care of your
newborn
, feed frequently, change diapers and pay attention to medical necessities also.
Make Things Easy for Yourself

Keep things you need frequently handy and within your reach. After all, your body also needs rest and frequent disturbances can cause problem. For example, if you are nursing bring the most comfortable chair into your room and use it. Keep a bottle of water and other necessary things that you might need on your bedside table.
Sleep When Your Baby Sleeps
It is obvious that you need to stay alert and pay attention to the needs of your child throughout the day as well as during night hours also. On the other hand you need proper rest and sleep to perform your responsibilities for your newborn. So, you can get the rest in bits and pieces if you take a nap when your baby takes one and sleep when he sleeps.
Simplify Your Schedule
Do not expect to get back to your daily schedule right away. Do what is best manageable for you while taking care of your newborn and yourself. It will take some time to get back to normal. So, let some work that is not so urgent wait for some time until you are back on your feet.
Share Your Workload
Since you are in a period where your work load has increased, you should accept or even ask for help from your partner and other members of the house. If you have a young child, you can appoint a babysitter.
Watch Out for Postpartum Symptoms
Many women, especially those who had surgical, medicated or assisted delivery experience sadness, tiredness, tearfulness and difficulty in concentrating in the
first few days of childbirth
. You should not ignore these symptoms and talk to someone who is close to you.
There is no doubt that the first few days after childbirth would be rough, but do not forget to enjoy those moments.
How can new parents adjust to the arrival of a baby? How can new parents compensate for the sleepless nights? How can new parents avoid stress? Discuss here.