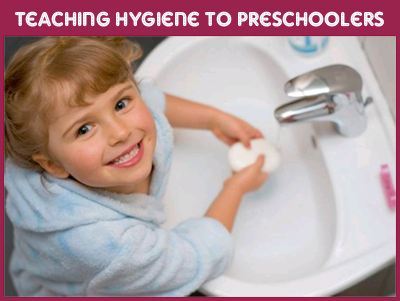 Good personal hygiene is very important and if kids learn it at an early age it will be of great help for them in life. Read on to learn how you can teach hygiene to preschoolers in creative ways.

No one wants their child to look untidy and be a smelly kid in class. But the hardest thing is to convince them the importance of brushing their teeth regularly and properly and taking bath as well. For a small kid hygiene may seem like a hassle. You need not worry or wait for them to grow a little older to understand the importance of hygiene. In fact, you should start introducing them to the world of hygiene as soon as they start understanding things.
Above all a clean child is a healthy child and this is the reason why you need to teach your child the basics of
cleanliness
and hygiene. There are some creative ways to help you teach your child about personal hygiene and make the journey easy for them. So, encourage your child to practice good grooming
habits
.
Top 7 Ways to Teach Hygiene to Preschoolers
Here are the top 7 ways to teach hygiene to preschoolers.
Start From the Essentials

Washing hands is the most important and the most basic hygienic action that you can teach your child. You can make him or her wash hands many times during the day. Make sure your child washes his hands after using the toilet and before eating anything. Avoid using only sanitizers rather encourage your child to wash hands with soap and water. Sing a song together so that they enjoy the act.


Make Bath Time Fun Time

Bathing is something most children enjoy especially when they are left to splash water. So, teach them to clean their body parts while having fun with soap and lather. They will never consider bathing a chore.


Become a Role Model

Children learn a lot of things watching their parents do. Invite your child when you brush teeth and try to do it together. You can comb your hair and wash your face at night together.


Explain the Importance of Grooming

Explain age appropriate concepts of health and wellness to your child. Kids can grasp when you will explain things clearly because simple instructions do not stay for long. Teach them the ways in which they can prevent contagious diseases to infect them.


Read Books and Show Evidences

Reading books that explain importance of hygiene will make your child conceive the idea well. Discuss the concepts mentioned in the book and let your child express what he understood. When the favourite character of your child will teach, he will learn and remember well. Do not forget to show him or her images related to cleanliness and hygiene.


Add Little Incentive

Children love excitement and fun in whatever they do. Buy something interesting for them so that they enjoy cleaning activities. For example, musical toothbrush, rubber duck for nothing or anything from the section of bath toys for kids.


Make it a Routine

This is the most important step which will help make the foundation strong. Children thrive on routines. So, before they understand or react to things, you schedule brushing teeth, bathing, combing hair and all other aspects of grooming that needs attention daily. They will accept everything as a part of their daily life. Perhaps they would help you remember if anytime you forget.
Good hygiene is important to maintain good health and the habit formed in preschool years will help your child maintain a healthy body throughout his life. It is important to engage preschoolers in fun filled activities so that they have active learning experience to develop useful skills.
How to teach personal hygiene to children? What is the right age to teach hygiene to children? How to teach children to be clean and tidy? Discuss here.