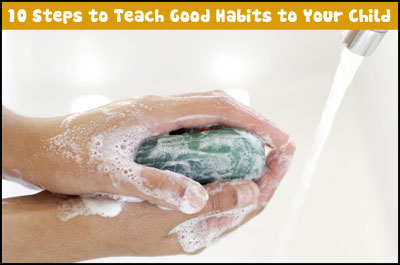 Teaching good habits is very essential as they are very important factors which define your child' personality. Read on to find steps to teach good habits to your child.
Teaching good habits to your kids should start at home, much before sending them to school. Learning
manners
is one of the easiest things to teach, and it should start at an early age. Any child can master the good habits; you just have to nurture them in your child before it is too late. Here are 10 steps to teach your children good habits on a daily basis.
1. Wait Till It's Your Turn
Teach your kids not to interrupt when you are speaking. They should wait for their turn to speak. Make sure to give full attention to what they are speaking after you are done, and you should not interrupt as well till they are done.
2. Respect Others
Teach them how to respect others by showing respect to others yourself. They learn what they see. Also, look into your kids' eyes, address them by a proper title, shake their hands with purpose, and teach them touching feet of elders and get blessings – all these they would do if you do.
3. Teach Model Manners
Use a lot of model words, such as "please," "excuse me," "welcome," "
sorry
," and "thank you," as you interact with others and make sure your kids hear them. Address your kids with the same
politeness
as you do with others. Teach them how issues can be handled by using these magical words without any hassle. Your kids will catch the words soon.
4. Cleanliness and Hygiene
Teaching about
hygiene
is very important to kids.
Washing hands
in the correct manner, taking bath properly, keeping fingernails trimmed, brushing the teeth twice, etc. – all these they should be taught daily.
5. Neatness
As much as cleanliness is important, neatness goes hand by hand. Arranging messy things into order, keeping the surroundings clean, putting the notebooks and toys at appropriate places, etc. are to be taught gradually so your kids can become neat and organised.
6. Table Manners
Set the table using clean dishes and arrange the forks, spoons, and knives at respective places. Add a napkin and a glass. Teach your kids to put the napkin on the lap or tuck it in, keep elbows off the table, avoid opening mouth while eating, avoid making noise while eating – your kids will do wonder in few days.
7. Not to Touch Things
It is annoying when you take your kids to some relative's places or any shop and they start touching things with curiosity, sometimes ending up destroying them. It is a habit you should teach them regularly not to touch things like that, but can only look.
8. Teach Your Kids to Be Polite
It is not only about using polite words, but you need to teach your kids how to reflect polite gestures. Teach them how to reject something that they do not want, teach them how to show to talk to others, teach them how to learn from mistakes, teach them your family values and traditions – your kids are definitely going to succeed.
9. Sharing Is Caring
Educate your child about sharing joy and pain both to increase and decrease the same feelings, respectively. Siblings easily learn this act, but if you have a single child, you need to explain him or her how sharing proves to be an important part of life.
10. Use Positive Language
Never use abusive languages in front of your kids. Affirmative language is a better motivator than abusive language. Use good words when you talk to your kids. Use words like "bad," "not much exciting," "not good," instead of boring, ridiculous, dull, etc. to show negative response.Catch your children following good habits, hug them, pat them, and acknowledge them. This is a great motivation every child needs. Show love to your kids. If they do any mistakes, do not lose your mind, but comfort them and explain where they have gone wrong. Your hard work should be seen soon in your kids's behaviour.
Why is it important for parents to focus on teaching good habits and manners to children? Which basics good habits should be taught to preschoolers? How to deal with bad habits in children? Discuss here.