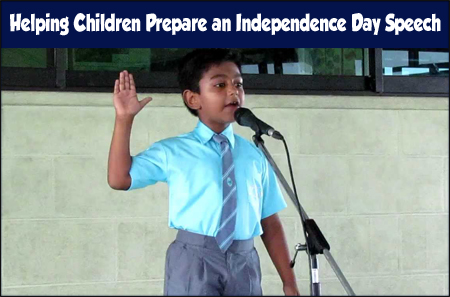 Independence Day is celebrated in many schools and colleges. Here are some tips to help your child prepare a speech for Independence Day.

Independence Day is round the corner and schools often have dance, drama, skits, and various other programmes on this day. Your child may be asked to prepare an Independence Day speech for this important day. Find out some tips to prepare Independence Day speech.
Study the History

Before you help your child prepare an
Independence Day
speech, help him or her to study the past. Children should know about the Independence Day struggle and how our forefathers, ancestors and leaders suffered for so many years before finally winning Independence.
Know your Facts

Children should be taught about the great leaders who brought victory for India. Teach your kids all facts related to the struggle for Independence. Teach them all facts about our country which they may not know such as colours on the Indian national Flag, National emblem,
National anthem
, etc. In order to prepare a great Independence Day
speech
, it is also necessary to have knowledge about our country.
Prepare Him or Her for the Big Day

Dress up your child like a true leader. Let him wear a 'Khadi' outfit. Give him or her Nehru cap and jacket. Go back in time and dress up your kid like an old time national hero. There are many leaders whom you can dress up your kid like such as Pandit Jawaharlal Nehru, Bhagat Singh, etc. Pin a flag on your child's dress and let him or her look like a patriotic freedom fighter while giving the speech.
Use Quotations of National Leaders

There are many freedom fighters such as Pandit Jawaharlal Nehru,
Mahatma Gandhi
, etc who have given great speeches. You can take some quotes from their speeches in order to make your child's speech seem more real and wonderful. Pandit Jawaharlal Nehru has given a great speech on the day of independence. Gandhiji and Pandit Nehru have written books about their experiences. Help your child to pick up some useful lines from old books or speeches of national leaders.
Teach Your Kids the Value of Independence

Before your child prepares the speech, help them to understand the value of the freedom struggle. Teach them how we got independence from the British and how many great freedom fighters lost their lives while fighting for independence. Help your child to feel the pain from the past and how glorious our struggle for independence was.
Imbibe Patriotic Values in your Child

The patriotic feeling has to be there while giving a speech. There should be
patriotism
in the way your child acts or speaks. So first, prepare your child to be patriotic and understand the value of freedom. Let your child learn about the country, leaders, National songs, etc. Let him or her understand that patriotism and respect for the country is a must. He or she should be proud to be an Indian first before speaking on Independence Day.
Practise at Home

Your child needs to practise the speech several times before finally going on stage. So, help him or her stand in front of the mirror and learn it by-heart. Help to memorize the speech at home. Teach him or her how to stand, sit, etc while talking in front of everybody. Help him or her memorize the speech by practising it many times. People should love the way your child looks and acts while giving the speech. It is better to memorize it and learn it instead of reading out from a piece of paper.
Independence Day is an important occasion all across India. Children should look forward to this day and remember that India is a great country. His or her Independence Day speech should reflect the love for the country. India got Independence from the British on 15th August, 1947 and ever since then we have been celebrating this day in different ways.
How to help children prepare a speech for Independence Day? How to write an Independence Day speech for children? What at the ways to prepare kids for giving speech on Independence Day? Discuss here.