Child's Healthcare Topics..
Cough and Cold?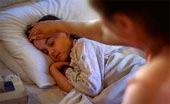 My 7-month-old daughter had a terrible cough a while ago. I applied turmeric paste on her forehead, and then I applied Vicks to some warm paan (beetel leaves), and placed it on her chest. I did this around three to four times a day, for around fifteen minutes at a time. It worked like magic!
- Raghu Iyer, India

My baby is almost 2 years old now. Since the day she was born, whenever she would suffer from a cold or from colic, I would give her a spoon of turmeric powder with a little warm water. Her cold would completely dry out within a couple of days. Also I breastfed her till she turned 1.5 yrs. I strongly believe that because of this, her immunity is high and she has had rare incidents of colic and cold. Babies build their resistance in the first few years. If they are fed antibiotics during this time, it can hamper their natural resistance building process. Hence, use home remedies as much as possible.
- Supriya Sikand, India

For mild coughs, I find that a small amount of milk (1/4 cup) warmed, to which a little salt and a teaspoon of turmeric has been added, helps. It tastes foul, but the results are almost immediate!
- Bzbee, Canada

To get rid of your child's cough, wrap some Aniseed (ajwain) in a piece of cloth and make it into a ball. Heat the ball of cloth with an iron or 'tawa' and place it gently on your child's chest. Move it back and forth. Make sure the cloth isn't so hot, that it would burn your baby's skin! Your child will feel better. Do this for two days, and you will see results. Another tip is to crush tulsi paan and add a few drops of honey to this paste. Feed it to your baby. I have tried this on my ten-month-old son, and it really works! You can also give your child some hot milk mixed with a pinch of turmeric to drink. This will sooth your child's throat.
- Nikita, India

This really works for babies, below a year old. If your baby has a severe cough, try this: Take the juice of one adusol leaf, mixed with the juice of 5 to 6 tulsi leaves. Add ajwain powder and feed this mixture to your baby for two days. It is an excellent cure.
- Riya, India

If you are hesitant about feeding your baby any of these home remedies, try this: To a pinch of saffron add a few drops of water and grind. Apply this paste on your child's forehead, chest, back, hands and soles of feet.
- Suzan, Hong Kong

I have used this effective remedy for my 14 month old when he had a cold.
Heat some coconut oil with powdered camphor and allow it to cool down to a lukewarm state. Once there, apply the oil to the chest, back, nose, throat and forehead. The cold usually subsides after continuous application twice a day for about 2 days.
- Gayathri, Germany

If you have cough/congestion, add a tablespoon of honey and the juice of half a lemon to a glass of warm water. Drink up, the first thing in the morning. Kids should take a teaspoon of honey. Whenever my 4 year old has a cough, I give her ginger juice and honey and then some warm milk. It really helps. Humidifiers help too, but if you don't have one, place a wide pot filled with water in your child's bedroom.
- Shalini, USA

You may also be interested in:
Recent comments (54 comments)
Name: BAU
Country: India
My twin babies had constant bouts of cold and flu. I tried few of the cures mentioned in this blog http://beautyandu.blo gspot.in/2014/ 07/top-5-home- remedies-to-cu re-cold-and.html These methods really work like wonder to cure them..
Name: hina
Country: India
i am allergic to dust and weneva i clean my house i get cough though its strange..is there somthing i can do for this
Name: veenita sengupta
Country: India
try giving tulsi leaves,small onlion and khadi sakhar....grind all 3 and remove its juice and give it thrice a day for 3 days....this will not only gv a temporary relief for your kid, but will avoid cold and cough on a long run
Name: Tisha
Country: India
my 4 years 5 months doughter have every months cold and cough what i shold do home treatment.please help
Name: Saman
Country: India
when your baby is down with severe cold and cough avoid giving too much milk (chances are more that your baby will throw up...in a way its good because along with the vomit the baby gets rid of mucus...but too much vomiting is never good)instead give small quantities of semisolids. ajwain seeds heated in mustard oil when rubbed on the chest, back,naval and palms gives instant relief.
Name: Ina
Country: Malaysia
can i give turmeric powder which is prepared and sell for cooking purpose for my 2 months old baby? pls reply.
Name: chanchal laddha
Country: U.S.A.
i mix jalwal power or kesar in water and put it on my 1 month old baby head chest and back to releif for cold
Name: Maria
Country: India
for cough n cold u can mash karupuravalli leaf, tulasi leaf & beetel leaf, extract juice from it & feed in empty stomach. mash leaves with little salt so that the leaves will not turn black. it will remain green
Name: Maria
Country: India
hi, tips given above would be very useful i guess. my 3 year old daughter always suffer from cough and flem in her throat.
Name: kamini
Country: India
my baby boy is 3.4 yr old underweight as per age and height chart. he has a dry cough problem every month. food intake is also low. get's irritated badly during coughing. doctor said , he has little bit low immunity. can anyone suggest me good altrnative medicin to aloepathy treatment becoz i am fed up by giving him antibiotic all the time. pls help me.
Name: Shannon
Country: Canada
i just gave my 7.5 month old daughter 3 ml of my breastmilk with maybe 1/4 tsp of turmeric mixed in, via syringe. she loved it! weird, as i thought it tasted pretty icky. but she's almost instantly fell asleep. because she's finally comfortable?? she has a very bad cough. hoping for the best! thanks for all the tips!
Name: seema
Country: India
good homemade treatments.thanks all
Name: dr. ekta sharma
Country: India
dear all, it will really work and is very effective. have a desi paan leave, wash it propertly with clean water,cut pieces of it. have ajwain (3/4 spoon) put it in a very clean piece of cloth, tie a knot of it. have one glass water in pan, put ajwain knot and paan pieces in water. boil it on sim gas till water become little less than half. filter it and keep it in a jar. give your baby 1-2 spoon at a time, thrice a day,and m sure u will see the result in 2-3 days. if there is cough also, add a pinch of pure turmeric also in water whicle boiling. may god bless all babies in world
Name: JULIET
Country: U.A.E.
i really did'nt know that honey is dangerous for infant, i had given honey to my 5 months baby, i gave honey with small(sambar)onions & kadisakar.i cant find pure turmeric in uae.my baby always has cold,and doc gives antibioitis i always tried to avoid anctibiotics but in vain,i also tried ajwain tied in cotton cloth warmed on tava,i tried tulsi leaves.now she is 8months. pls advice some remedy for this cold
Name: E
Country: U.S.A.
greetings all i've been using holistic remedies for years for my son who is not 8. i just recently had a daughter she is 9 months and currently has a cold i give her fruit juice, water, herbal tea in her bottle and put baby vicks on her feet with thick socks. she is sleeping peacefully now. i also as needed gently aspirate her nose. alot of the advice on here is worth looking into, although i don't give honey to my baby either as she is under 1...just to be cautious. but once she's 1 it's on. lol
Name: karma
Country: Bhutan
bhutan is a cold place and i m always having cough when ever i get cough and cold and it remains for a month or two, i evern took antibities and had done home remidies also but still getting cough.pleas give me some suggestion to get cure at the earliest.
Name: va
Country: U.S.A.
hi, i am reading all this and i would like to try it, i am desperate, but i cannot find the products to buy them, where can i can i get these products? thanks
Name: Radha
Country: U.S.A.
my 4 month old had very bad cold and cough. these are the home remedies i applied. all proved to be extremely affective and helped bring the cough out. 1. boil betel leaves and ajwain in water till reduced to half. give the baby about 1.5 ml twice a day. 2. for cough, just take some honey on the tip of ur finger and apply on her tongue about 3 times a day. 3. steaming using eucalyptus and rosemary oil. 3. warm mist humidifier at night.
Name: shama
Country: India
my daughter is three months old she has a little cough and cold what should i give can somebody help
Name: seema narang
Country: India
my two sons , are generally affected with enlarged tonsils, when ever they have acute cough, i always give them hot milk mixed with turmaric, at night. one more thing can be helpfull, heat lukewarm desi ghee and apply on neck at both sides, at elbows, hand and foot fingers joints.
Name: Maria
Country: India
i give my son of 3 year old,1/2 cup of water boiled from a teaspoon of kadisakar(surar candy), 5 mint leaves&5 tulsi leaves the first thing in the morning. i boil 1 cup of water with the above till it reduces to 1/2 and tumeric well boiled in milk(tumeric milk)
Name: Maria
Country: India
avoid giving bath, only sponging is better. for relief from cold for my 21/2yr old i let him do warm inhalations by putting 1/2 a karvol (vicks drops available in any medical store) twice a day for 5 continuos days. and for cough, i boil 2 cup of water into which i add 5 tulsi leaves,5 mint(pudina leaves) and 1 teaspoon kadisakar(sugar chips/sugar candy/big crystal sugar). i boil it until it lessens to 1 cup firstly every morning and let him drink it.
Name: Shaily
Country: India
i tied a flake of garlic to my one year old son and the cold disappeared within a couple of days.
Name: sumansuri
Country: India
it is very good and helpful besides children adult also can take still now my children are takeing these home made remedies there is no side effect
Name: Leonilla Dsouza
Country: India
wrap some aniseed (ajwain) in a piece of cloth and make it into a ball. heat the ball of cloth with an iron or 'tawa' and place it gently on your child's chest. move it back and forth. make sure the cloth isn't so hot, that it would burn your baby's skin! your child will feel better. do this for two days, and you will see results.



Back to Previous Page | More on Child's Healthcare Index
How an 11 Year Old Overcame Bedwetting Video