Child's Healthcare Topics..
Dealing with stomach aches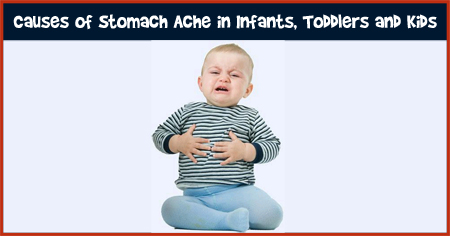 A stomachache is one of the most common childhood complaints. Most parents make the simplest of connections assuming that the pain in the stomach must be linked to something their child has eaten that has disagreed with her. However, this blanket assumption does not always hold true. Stomachaches can be a symptom for a variety of ills.
In babies below the age of three months, a stomachache could signify the dreaded colic. Indigestion can also trigger stomachaches. When the child is around a year old, a stomachache could be an offshoot of a sore throat, cold or flu. This is just the stomach's way of intimating that it too has been affected by the infection. Constipation could be at the root of a stomachache. The pain could manifest itself as a dull ache or a sharp shooting pain. In the case of intestinal infections, vomiting and diarrhoea usually accompany the stomachache. These can also be symptoms of food poisoning. Food poisoning is generally the result of eating food that has not been cooked thoroughly or improperly canned food.
Children with feeding problems often complain of stomachaches when they come to the table at mealtimes. Since stomachaches are easy to fake, parents sometimes do not give their children the benefit of the doubt. Parents assume that they are pretending in a bid to escape eating a meal. However, it is more likely that their stomachs are knotted with anxiety because mealtimes are such an ordeal. That is why it is important that parents try not to make mealtimes a battlefield. The stomach is an organ that reflects extremes of emotion. A child's first day at school can make his stomach clench with tension. Excitement can also trigger diarrhoea in some children.
Stomachaches are also associated with intestinal allergies, inflammation of the abdominal lymph glands, kidney disturbances, etc. However, these cases are more infrequent.
But the stomachache that parents really worry about is the one that accompanies appendicitis. The appendix is a small offshoot of the large intestine. The appendix sometimes becomes inflamed and in the worst case scenario it can burst spreading infection throughout the abdomen resulting in peritonitis. An inflamed appendix can reach the bursting point in as little as twenty four hours.
Typically, appendicitis begins as a pain concentrated around the region of the navel that continues for a few hours. This pain later shifts to the lower right side of the abdomen closer to where the appendix is located. The symptoms of appendicitis differ from child to child. Some children may vomit a couple of times; others lose their appetite, become constipated or develop fever. Doctors usually diagnose this condition if they discover a tender area in the right side of the child's abdomen when they feel every part of the abdomen.
Thus, when your child clutches her stomach and complains of a tummy ache it is better to err on the side of caution. Irrespective of whether it is a mild or severe pain, acute or chronic, get it checked by the doctor. It may be nothing at all, but it does no harm to rule out any serious possibilities.
You may also be interested in:
Recent comments (1699 comments)
Name: katlyn
Country: Ukraine
I get daily digestive disturbances and a constant pain in my middle stomach. sometimes its very severe, but to keep it form being severe my doctor keeps a close eye. on a weekly basis my doctor constantly listens and palpates my belly to search for issues. he palpates the stomach deeply for abnormalities, small intestine compressions, and colon palpation for constipation. this keeps my belly from severe pain.
Name: Apoorv
Country: India
I don't know why but I get a stomach ache almost daily. My stomach hurts so bad and I end up laying on bed rubbing my tummy. Anyone wanna chat, let me know.
Name: skate
Country: U.S.A.
I could really use a stomach pump. My stomach is so full and bloated, i feel sick to my stomach, but keep eating. there is so much contents in the stomach waiting to come up, i wish i had someone behind me to squeeze my stomach guts as i puke them.
Name: Padme
Country: India
I need someone to examine my belly badly. my belly hurts a lot and my intestines feel like they are going to explode. I have horrible sounds coming from my belly no stethoscope needed. you can feel my poor guts writhering in my belly :(
Name: puja
Country: India
i don't know why my stomach pains so much..sum times the pain is uncontrollable..if there is some home remedy please suggest..
Name: sports fan
Country: U.S.A.
I went to see my boyfriend Keith on July 23rd his birthday and my mom, my step-dad, my Gram, and I all took Keith out to lunch at Hoss's for his 24th birthday. I forget what my mom, my step-dad, and my Gram got. I do remember that I got chicken parm or something like that and Keith got a Philly cheesesteak. We got seated at our table and I sat next to my Gram and I also sat next to Keith because it was his birthday. We got up and got some salad and stuff from the buffet area and then went and sat back down. Our meals came and we all sat and ate whatever we had ordered. Then came a special piece of cake that Keith decided to take home because he wanted to save it for later. Then me, my mom, my step-dad, and my Gram took Keith home and I had his birthday present and a care package in the trunk for him so my step-dad opened the trunk for me and Keith to get his stuff. Keith and I then took his stuff into the house and I got to say hello to Keiths mom and dad. Keith and I caught up for a bit before he took me back out to the car. Keith walked me back to the car and before he closed my door, he told me not to cry and I told him I wouldn't. My mom, my step-dad, my Gram, and I pulled out of Keiths driveway and he went back on his porch to wave goodbye. That's my day with my boyfriend.
Name: Katrina Brown
Country: India
I love having my stomach pushed on. I enjoy it to the point of causing a stomach ache. It's a different kind of pain than the "oh I ate too much" bellyache. It's almost not pain, especially if I do it to myself. I like pushing on the area right at my bellybutton kinda slow, but deep enough to hurt just a little. Then push a bit harder to make it hurt more. Keep pushing and pressing the area all around my bellybutton, working my way out to the sides and above and below until my whole stomach has been touched to the point of pain. It leaves me with a kind of all over tummy ache, but feels so good when I do it. It aches and throbs, but the throbbing in my belly is the "outside" sensation. The "inside" feeling I get is closer to a more intimate sensation and I not only feel it in my belly area, but lower as well. I've found the easiest and most pleasureable way to do this is to sit in a chair with my butt closer to the edge so my lower back is not touching the chair, but my shoulders are against the back of the chair. This way when I push on my tummy, I can do it as hard or as gentle as I want. If I lay on the bed, I can't quite get the same angle or pressure. I'll use my whole hand for some pushes and then just my fingertips to almost kneed my stomach. I'll push in really hard and then while still pushing move my hands up and down my stomach. This way my hands aren't rubbing my belly exactly, but pushing different areas without having to take them away from my tummy. Sometimes I'll give myself a really hard push in the belly and complain aloud, "Oh my stomach hurts!" or "Oooh I've got a bellyache!" I'll keep rub/pushing my tummy moaning about my stomachache for a while. I don't really like the pressure to be extremely hard when I already have a real stomachache. At least not one from eating too much. I like a firm belly rub when my tummy is hurting, but not so deep and hard that it makes the tummy ache worse. And I'm not a huge fan of a quick jab to the stomach closer to a punch. I definitely like to start out with a soft touch to the tummy, then slowly get harder and deeper into the stomach. For me it's not about making a stomachache feel better, it's mostly about just the fact it feels good to me. I remember as a kid, I would lay with my belly on top of my stuffed animals so that it would hurt a little. I also had a friend put couch cushions on top of my stomach and then stand on top of them. Weird, I know but that deep pressure in my tummy felt really good.
Name: Stomach Creeper
Country: Australia
I just came home from work. A real pretty woman I worked with for a long time just turned me on so today, I couldn't help myself. I punched her real hard in the stomach. I liked it. It gave her a real bad stomach ache and she let me take her home and take care of it. I want to punch her in the stomach again after it stops hurting. I enjoy taking care of her hurting stomach. I like hurting it more, though.
Name: Katrina Brown
Country: Brazil
Everytime I have a stomach ache I fill my stomach to the maximum capacity. Then I push down really hard on my giant stomach until I puke it all up. I go to the doctor and make him rub my upset stomach. He presses down on the bloated stomach, and I puke some more. The mor puke that comes out the more my stomach feels better. Oh How I love it when I have someone behind me to sqeeze my stomach as I puke, and force feeding my stomach until I puke it up.
Name: Rebecca.Martinez
Country: India
it hard to get up with giant belly lol i eat much and it feel good to pass lol everyone love touching a baby belly
Name: Rebecca.Martinez
Country: U.S.A.
My belly very big and full. It hurt so let everyone rub on it feel good. I have big gas and it feel nice when boys come massage me.
Name: miri
Country: U.S.A.
my tummy hurts. any suggestions to help?
Name: nai
Country: Algeria
I some times I was a doctor so I could help people with stomach aches and belly pain. I remember my first belly exam and a nurse was pushing very hard on my bloated belly. My stomach was so full. She said to put my hands up and give her control of my belly. Her hands felt so good on my stomach ache, I pushed my stomach out "oh my stomach hurts, and I've had a lot of belly pain." I want to also have my hands on a sexy stomach ache, and pump an upset stomach to bring belly relief. The same belly pain I know. I rub my friends stomach and she likes it. She eats to have belly pain. I hurt her stomach some, with my fist in the pit of her stomach I love stomach pain
Name: vivian
Country: Austria
A belly ache can be enjoyed. I like the hard feeling in my belly when it is full, my stomach ache is welcomed. I like to push into my belly, getting my stomach pumped feels good. My doctor pumps my stomach and like to do belly exams. I also like having my belly pushed on, even if it gives me a stomach ache. I like when she stands up next to me and pushes the palms of her hands up into the depths of my belly. The pit of my stomach is hurt, and the belly pain starts to feel good. I feel like my belly is going to explode. My stomach ache needs some help. I lay down and of coarse push my stomach out for more. My belly pushed out I felt her hands pushing into my soft belly. "i have such a stomach ache today". My belly ache was aching for a rub. the began to rub my stomach ache, feeling her hand on my belly was great. I told her to punch my stomach, and she did. Landed her fist so deep in the pit of my stomach, and pushed her fist so deep in my belly. The belly pain got better, and few more stomach punches. my belly is heaving, and you rest your hand on my fast moving stomach. "i like to fill my belly knowing I am getting a belly exam because you make my stomach ache feel so good. I feel so deep in my belly.
Name: deena
Country: Aruba
My belly aches alot when I eat too much, but stomach pain gets me good belly rubs from my friend. I have noticed much about belly exams, and so I went to my doctor with a full stomach last week. She came in as I was letting my belly out, "oh my your stomach looks full, and I am going to get that belly feeling better". She had me stand up and pushed her hands into my full belly and pushed on different parts of my stomach, "oh my belly hurts so much". I pushed my stomach out and leaned back, my belly looked so big.She continued with my belly and started to just rub my stomach in cirlces. She had me lay down, and pushed into the pit of my stomach and my belly ache was feeling worse. She said she liked my stomach ache, and that I had a soft belly. she pushed into my belly hard.I liked the pain in my belly as she pumped the contents of my stomach. Now i know why stomach aches are a good thing, and how great a belly exam is.Hard pressure in my stomach, especially the pit of my stomach. I want to get a belly ache more often.
Name: Detiny
Country: U.S.A.
Hi sweet tummy angels, How are your belly ache's today? I hope not bad. I am sending you all healing touches on your beautiful tummy's . If anyone wants a virtual belly rub, using my words and your hands..email me. tummyachehealer@consultant.com I hope your sweet bellies arent hurting to much.. I send you tummy rubs , gently massaging you and cradling your belly in my hands. Love Your tum tum healer
Name: Destiny.Miller
Country: U.S.A.
Hi. I can relate to the Doctors in these stories. I am not a doctor but I love to cure bad belly aches. I dont enjoy people in pain or causing their pain. But I do help friends and co workers with their aching tummys. I have angel hands I am told, and come up with creative massage. It started with a boy friend in college who had bad belly aches and I started rubbing his tummy. He said it was the best treatment he ever had. Friends started coming to me and neighbors. I dont get turned on by it and dont like reading stories but I love to massage and caress a belly and make some one feel ok. Im great with gas pain, bloat , and over eating ..I have done many of my own treatments. Just did a great one on a co worker today... I am a belly healer of sorts... take care of your tummies .
Name: talia
Country: Austria
I went to my doctor again, just for some belly attention. I went ate a whole pizza and an upset stomach was for sure. I walked in the room and laid on the table, lifting my shirt so my belly was open and ready.I rubbed my stomach and say how big my belly was.I had a belly ache today that was intense. She came in "oh look at this belly, your stomach is more full than I have ever seen.stomach pressure is going to ache in your belly today." She came to me as I pushed my belly out more, she put one hand on my belly and told me to let my stomach fill up with air and breathe from my belly.She pushed into my belly as I did.Then she put two hands into the top of my belly and pushed upward into the pit of my stomach."oh my belly hurts, I love how you take my stomach aches and make the belly pain feel so good". She continued to push into my stomach, I felt her so deep in my belly. this time she had me stand up and she pushed me against a wall and pushed her belly against mine.She told me to push my stomach out as she pushed all her weight into my stomach.WE were belly to belly.She lifted our shirts and pushed her stomach out."how does this make your stomach feel". The stomach thing has worked well.My belly ache was great.
Name: sandy
Country: France
I had been constipated for the past couple of days, enough to where my belly is bloated out, and gurgling because of trapped gas. i decided to go to the doctor. he listened and tapped on my belly. he then made me take some laxatives in his office and lay on the table and he tapped all over my belly hard, tracing my intestines to loosen up the bowels. after 20 minutes of this he had me lay on my side and he pressed into my belly forcefully making all sorts of noises come out and made me pass gas and burp constantly. then he let me go to the bathroom and my belly emptied
Name: talia
Country: Austria
Intense belly exams feel good because I like the pressure in my stomach. I try to get a full belly on purpose because it feels better to have hands on my upset stomach. Last week I ate a burger,fries and milkshake.Every inch of my stomach was full and belly was aching.I walked in the office my belly pushing out she walked up to me and told me to wait in the office and she put her hands on my belly to feel how hard it was. I walked in and laid down on the table, I lifted my shirt and let my belly out ready for her to take care of this stomach ache.She walked in and came right to my side and pushed her cold hands on my belly.She pushed in different spots on my belly, and began to put pressure into the pit of my stomach, deeply into my belly."my belly hurts". She began to ease up and rub my stomach, "your stomach is too full, I know you like when i pump your stomach, but I will be gentle with your upset stomach first.Your belly ache is alot today." I pushed my stomach out more and she began to put her hands deeper into my full stomach, I liked the feeling in my belly even though it meant a belly ache.My stomach was moving in and out, she had me stand up and pushed both her hands hard against my belly, with my back to the wall my stomach took the pressure hard.She pumped up and into the top of my belly.I thought my stomach was going to explode."this hurts my stomach so much, this is a bad belly ache". She told me this is what happens when I come to her with a full belly.I stood there with my exposed stomach arched out as she pumped the contents of my upset stomach. she had me lay down and rested her hands on my belly as my stomach ache was still hurting, she gave me a new reason for a stomach ache, and my belly was feeling the benefit.She rubbed my belly for awhile and told me how much she like taking care of my soft stomach. I love these belly exams.Stomach aches are great.
Name: talia
Country: Austria
My doctor does intense belly exams as well. I actually like the feeling of my stomach being pushed on.I have alot of stomach aches, and my belly feels so heavy after I eat. Last time I went there she saw my full belly and just put her hand on my stomach, "your belly must be hurting, let me pump the contents of yuor stomach". She began to rub my belly as she was talking, and put her hand under my shirt, I leaned back to the wall and pushed my belly out."oh my stomach ache, help my belly".
Name: nadiona
Country: India
When I have a full belly I like to have my friend with me, she plays with my belly and pushes hard into my stomach and it makes my belly feel better.She likes to pretend to do a belly exam, pushing her hands all over my belly.i suck in my stomach so it will feel deeper in my belly.She puts both hands to my soft stomach and puts the tips of her fingers into the pit of stomach and pushes deep until belly aches.When she lets up my stomach is rising fast, she softly rubs my belly. She likes when i stand against a wall and push my belly out, she knees down and just rubs her hands all over my belly, and licks my stomach as well.I try to suck my stomach in because my belly feels so full.she says to let my belly out, and let my stomach fill up with air as I do she stands up and pushes her belly hard against my full stomach.she leans back and pushes her bare belly to me.I pull her tight to feel her stomach closer to my belly.we breath out at the same time our bellies together.she has a soft belly. I lay back down and she continues to give me a belly exam, but says she is going to get the contents of my stomach moving.i said "be gentle this is a rough upset stomach, but I love you pushing on my belly so give this stomach ache some help". She straddled above me and used both hands to pump my stomach, that was the deepest feeling in my belly.I pushed my stomach out for more.She punched me in the stomach, and left her fist into pit of stomach and pushed deeper in my belly."oh my belly ache, my stomach ache is so hard". My stomach was heaving, she layed one hand on my belly as it slowed down. She said" i love taking care of your stomach aches, and rubbing your belly, I like when you have an upset stomach so I can feel your belly, and pump your stomach." she is the reason I love belly aches.
Name: vivian
Country: Portugal
Stomach aches are okay when it is a result of a good meal, a full belly and some one to rub my belly. I had a friend over to make some christmas cookies. Which lead to the sugar stomach ache. A heavy feeling in my belly came up on me. We were in the kitchen and I put my hands on my stomach, she said "i know you have a belly ache, so lay down and i will rub your stomach for you." We went to my room I laid on my bed, she next to me. She put her hand on my belly and rested it as my stomach was filing up slowly. she lifted my shirt next, I am glad her hands were warm on my belly. She rubbed gently on my stomach, she told me to put my hands above my head and leave my belly wide open for her. She was so easy on my stomach, "oh my belly hurts, and I have an upset stomach from those cookies". I arched my back and pushed my full stomach out more, she then got on top of me and left her stomach fall against my open belly. I pulled her close to my stomach, we pushed our bellies to each other. Being belly to belly was better than the stomach rub, she laid on me for awhile just pumping her belly into my stomach. "i hope your stomach feels good". after awhile of that she went back to rubbing my belly.I told her I wanted to rub her soft belly. we took turns with belly rubs for awhile.Also spent more time pushing our bellies against each other. I told her that was the best stomach ache ever.
Name: Emiko
Country: Japan
I wasn't feeling well when I woke up this morning so I did not eat breakfast. Mum asked me why and I told her that I wasn't hungry. Then she went to work and I am on holidays so I stay home... after a while my stomach is hurting me a lot so I went to lay down in bed. There I started feeling really sick and I went to throw up in the toilet. After a while I started feeling better, so I cautiously ate some lunch. (I had rice). My stomach was hurting really badly after that so I decided to have a bath. In the bath I rubbed my stomach, and it slowly started feel better. After a while Mum came home and she said that I looked pale but I did not want to tell her that I was feeling sick, and that I had thrown up… so when she told me that we were going out for dinner with the family tonight I was worried. I didn't want to eat. At the restaurant with the family my stomach was hurting but my parents were watching so I ate a Japanese pancake called Okonomiyaki. I hid my pain for a while but after about half an hour I couldn't stop myself and put both hands on my tummy and doubled over in pain.. people were look at me in the restaurant and mum and dad were worried. I told them "I feel really sick and my stomach hurts so much" and they took me home. Now we have been home for a while and I lay on my bed, my stomach still hurting me so much and I feel really sick and I feel like I need to throw up again! I wish there was someone here to rub my aching stomach...
Name: nadia
Country: India
My belly hurts when I eat ice cream, but I don't think about stomach aches until I am laying there with a full belly and an upset stomach. Last week I had some ice cream, and layed down to watch tv as i felt the inside of my belly moving and my stomach ache was on its way.I lifted my shirt to let me belly out.I was rubbing my belly as I watched my stomach fill up with air.I saw my belly rise and fall slowly then my friend showed up.I didn't want to get up because my belly hurt.She came in and saw my full stomach."Your belly looks full, do have an upset stomach?". I said " would you help my belly".She came over and began to rub my stomach.I pushed my belly out, and she put both hands on my hard stomach.I sucked my stomach in and she pushed her hands deep in my open belly, then punched me in the pit of the stomach, leaving her fist pushed into my aching belly.my belly wanted to rise to fill with air, she let up and my stomach was rising fast.she put her hands back onto my stomach pushing deep as I sucked my stomach in for a breath."OH MY UPSET STOMACH, MY BELLY HURTS SO MUCH.KEEP YOUR HANDS ON MY BELLY". She got on top and let her belly rest on mine and pushed her stomach hard against me.I pushed my belly out as much as I could to feel her belly to belly with me.She pumped my stomach by pushing her belly out."oh my stomach feels so good with your belly against it, push your belly out and get the air out of my stomach". She got up and punched my stomach again, my belly was heaving.I had a new stomach ache, and I liked the way her fist felt in my belly.she rubbed my belly for awhile.I had a good belly ache, and my stomach was not left alone.



Back to Previous Page | More on Child's Healthcare Index
Vomiting and Diarrhea in Babies Video