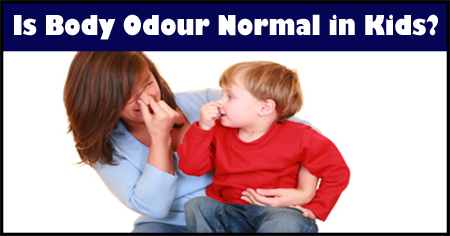 Developing of body odour early in kids may be disturbing for parents. Read on to find out if it is normal for kids to have body odour.

As a parent, it is natural that you are worried about your child having a strong body odour at an early age. It makes you wonder is this odour normal. The answer is yes, it is absolutely normal. For most of the children, strong or mature body odour is an early sign that puberty has begun. It can develop as early as 7 years old in girls and 9 years old in boys.
Kinds of Sweat Glands

Our bodies have two kinds of sweat glands:
Eccrine Glands

These glands are spread all over our body and they help us to cool down when the body is too hot either due to
fever
, weather, exertion or spicy food. These glands produce sweat, which is mostly a combination of water and salt.
Apocrine Glands

When puberty begins, apocrine glands become more active. These glands are present under the arms and in the groin, and they produce oil and sweat. When bacteria that grows on our skin digests this oil, it produces a strong body odour.
Causes of Body Odour – Adrenarche

Adrenarche is a medical term when children attain sexual maturity. These are the changes in body that begin when the adrenal glands become more active, which is why the pubescent kids have the strong body odour. Sweating also increases in pubescent kids, especially in the underarm and groin areas because the apocrine glands mature due to increased production of certain hormones.
Tips to Prevent Body Odour

Read below to know how to deal with body odour in kids:
Good Hygiene
Encourage and explain the
importance of hygiene
to your child. Ask your child to bathe daily and to wash their arm pits and the groin area regularly. Keep their clothes clean and fresh, and ensure that they do not wear same clothes for more than a day.
Water

Ensure that they drink plenty of water as it helps in eliminating the toxins in the body and reduces the chances of body odour.
Milk
If your child drinks cow milk or pasteurized and packaged milk, try replacing it with organic or soy milk.
Food Habits
Certain foods (different for different children) can also cause body odour, such as garlic, onion, red meat, fish or eggs. After these foods are digested, the smell comes out through the pores of the skin and produces odour. Notice and avoid the food items that cause body odour in your child.
Avoid Antiperspirant

For some children, maintaining proper
hygiene
and changing the milk and food items may help with the body odour to a certain extent. But it may not help all the children. In this case do not introduce them to an antiperspirant as it actually stops or reduces the amount of sweat produced. Children need to sweat to be healthy. Antiperspirants may also cause skin irritation for few children.
Warnings

Although body odour is generally a sign that
puberty
has begun, there might be other reasons for body odour.
Phenylketonuria or PKU

It is a metabolic disorder where few kids do not have phenylalanine hydroxylase, an enzyme that is needed to break the essential amino acid called phenylalanine. If PKU goes untreated, it causes a strong odour from skin, ear, breath and urine.
Fish Odour Syndrome or Trimethylaminuria

This disorder is a metabolic disorder that prevents the breaking down of the chemical trimethylaminuria into trimethylamine oxide. Thus, a chemical is accumulated that causes smelly urine, breath, and sweat.
Hyperhidrosis

Hyperhidrosis is a condition that leads to excessive sweating and is mainly due to excessive consumption of soda, spicy food, exercise and anxiety.
Parasites
Parasites, such as ringworm can also cause bad odour. Get your child tested to know the type of parasite that has affected to get proper treatment.
Other Medical Conditions
Other medical conditions such as
diabetes
, kidney or liver problem or inflammation can all have distinct smell coming from the body. Doctors can easily identify the underlying medical problem with the kind of odour.
Strong or adult odour is not a thing to be worried about as it is a sign that your child is nearing puberty. However, if you feel that the odour is different and not adult like or there are other concerning signs, such as headache or weakness, you must visit the doctor for a check up to rule out any medical condition.

Is it normal for kids to have body odour? What are the common causes of body odour in kids? How to prevent body odour in kids? Discuss here.