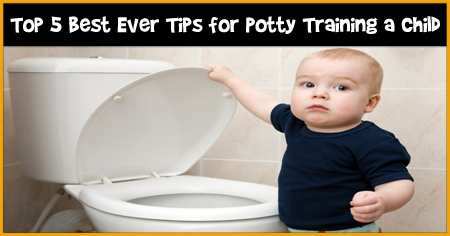 Potty training children is one of the daunting tasks for parents. To make this task easier, have a quick look at top 5 best ever potty training tips right away.

Potty training may seem like an incredibly tough job for parents but it is also one of the most important experiences that parents will go through with their children. With a little intelligence and some discipline,
potty training
can became a simple task. These little tips will help you on your way.
Some Basic Tips on Potty Training Your Child

Here are some basic potty training guidelines which you can follow when you start potty training your child.
Start potty training your child after he or she turns 15 months old.
Note the gestures of your child when he or she feels the urge to do potty.
Once you identify the gestures immediately take your child to the toilet when you observe such gestures. Repeat this exercise everytime you observe such gestures and after few days your child will rush to the toilet on his or her own on feeling the urge to do potty.
Do not force your child or put pressure on him or her to use the potty seat but encourage him or her to do so.
Do not yell or shout at your child if he or she by mistake does potty out of the potty seat or does it before reaching the potty seat due to lack of bowel control.
Keep asking your child at regular intervals if he or she wants to use the potty seat when you start potty training him or her.
1. Potty Train in Specific Sessions
Parents are advised to stick to a specific potty training session. For example, if you are potty training your child then start off with specific training sessions in the morning and the afternoon. Let your kid continue daily activities like eating, sleeping, playing etc as usual put him or her on the potty seat immediately when you observe the gestures that your child wants to use the potty seat.
After every potty session put on a fresh diaper on your baby and then continue with normal activities. In case you leave the house with your kid then take the potty seat along in the car and make sure the routine is not broken if possible.
2. Try Undressing Your Kid
When your kid is at home, try making him or her wear only a T-shirt or a frock with no bottom wear. The lack of a diaper or bottom support will mean that your kid has to look for a place to pee or poop. Obviously the best choice in this case will be the potty. When your kid successfully uses the toilet seat for the first time, make sure that you both have a look at it. Point to the swirling water of the flush and acknowledge the fact that the potty is now firmly disposed off. Your kid has to understand that he or she has been successful and has been appreciated.
3. Give Rewards
With small children using the reward system is a good idea. Cute sticker strips of famous cartoon characters are a good inexpensive reward for a training success in potty. Create specific milestones like one full dry day in underwear or a full dry night. A great prize idea is an ice cream block or your kid's favourite burger. You need to be creative in order to devise a prize that will make your kid happy and feel proud of the fact that he or she is now
successfully potty trained
.
4. Shower Your Kid with Praise
With very small kids, praising is a sure fire idea to get attention and motivate them to do what you want. Every time your kid uses the potty correctly, give him or her lot of compliments. Ask your partners and other family members to fuss around your kid. Usually compliments and recognition work better than material rewards when it comes to motivating children. However when your kid has a potty failure then try using brevity to explain that it was an accident and accidents too happen.
5. Coordinate With School Teachers
Talk to your kid's school teacher and communicate the fact that your kid is being potty trained at home. The school teacher is going to be busy with lots of kids so make sure that you communicate clearly about the timings on which your kid needs to be reminded to go to the potty. Make sure that you explore the school toilet along with your kid to gain a good idea of the facilities and familiarize your kid with the terrain. You need to be specially understanding with your child when there is a potty accident in school as this failure may badly affect your kid and make him or her nervous.
When you apply these tips in a consistent manner while potty training your kid, you are sure to gain success. A few weeks later you will be congratulating yourself on successfully potty training your child.
What is the right age to start potty training children? Why do some children fear using potty seat? Is it alright to force children to use a potty seat? Discuss here.