Child Development Topics..
Signs That Your Child Is Ready For Potty Training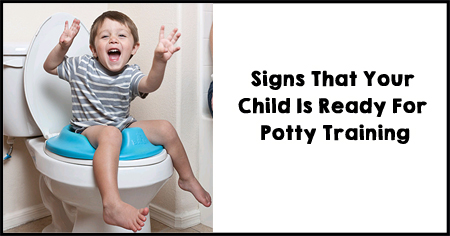 Identifying the signs that your child is ready for potty training will help you to potty train your child with an ease. Here is how you can identify that your child is ready for potty training.


Your paediatrician will tell you that there is no use in instigating your child for potty training unless he or she is ready. Children will give parents visible signs of the time when they are ready for potty training. Ideally, such signs are exhibited by children when they around 15 to 18 months old. If you are a parent then watch out for these prominent signals from your toddler.

Trying To Take Off Diapers

An important sign of your toddler getting ready for
potty training
is exhibited when he or she tries to take off the dirty diaper naturally. In case it is a poop filled diaper then make your kid watch as you flush out the poop in the potty. Express your appreciation to your kid for the fact that he or she has understood that dirty diapers are not comfortable. Also encourage the use of the potty as a good way of cleaning out that dirty feeling.

Communicating About Dirty Diapers

You know that you are right on the potty training track when your toddler starts communicating that the diaper has become dirty. This is also the time when the toddler will start to understand the exact feelings that proceed doing the poop or pee. Encourage your kid to communicate, understand and identify these feelings. Recognizing the feel or the urge to go to the bathroom is an important indicator.

Showing Curiosity

This will probably sound ugly but most toddlers start indicating their interest about the potty process by wanting to examine their own waste. This is actually a positive sign as it indicates a growing level of body awareness. Let your child have a small look at the dirty diaper without uttering degrading words about the waste. Also encourage your child to feel positive about all associated actions of this potty training adventure.

Showing Interest in Your Bathroom Visits

Kids follow the actions of their mom and dad naturally. This is why they play dressing up games or conduct mock conversations on the phone. Doing these things is a lot of fun so use the natural curiosity of your kid to your advantage. Do not discourage your child from asking relevant questions about what is happening in the washroom. Tackle the washroom or potty topic in a natural way so that your kid understands that it is a normal part of existence.

Waking Up With a Dry Diaper

Developing some level of
control over their bladder
is required before toddlers can become potty training ready. Start noticing signs that your kid can wake up dry after a nap as this is the pleasant indicator of soon to follow dry nights. Keep encouraging your toddler to sit on the potty seat right after nap time is over in order to reinforce bladder control.

Learning To Do Step Wise Jobs

Going to the potty successfully requires a series of successfully executed steps. Your kid has to get undressed, sit down, wipe the pants, wear the dress and then wash the hands; this is a whole lot to remember for a kid. When you see your child following multiple steps in other spheres of life it is an indication that he or she is going to be ready for potty training soon. For example, if your kid can successfully follow instructions like "close the video game and put it inside its cover" then that is a good sign of
intellectual development
Attempting to Undress


When you notice your kid trying to take off pants then it is a sign of potty training readiness. Undressing without help is a big feat for
toddlers
and it is a pleasant indicator of diaper free days ahead.

Always be on the lookout for signs from your kid to pick out the right time for potty training. Sitting in a squat position can also be one of the indicators that your child is feeling the urge to pass stools. Every child is unique and may exhibit different gestures to express his or her urge to pass stools. So, you must identify such signs and encourage your child to use potty seat before the job is already done!

How to know if a child is ready to be potty trained? Which signs are exhibited by children when they want to pass stools? How to potty train a child quickly?
Discuss here.
You may also be interested in:
Back to Previous Page | More on Child Development Index