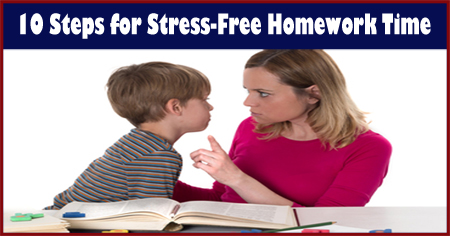 Stress and pressure may not allow children to concentrate properly while doing homework. Therefore, it is necessary to maintain stress-free environment while children are studying or completing their homework. Follow these 10 steps for having a stress-free homework time.

Leena is happy that her daughter has performed well in her last grades. She has come to know that her daughter is going to have more homework from this year. That is why Leena wants to learn the ways that will help her and her daughter be stress free while doing the
homework
. She wants her daughter to enjoy her homework.
How to Have Stress Free Homework Time

When it comes to doing homework, children and their parents both start feeling uncomfortable. When a child gets promoted to the higher classes the volume of homework keeps on increasing. At times, homework causes worries and stresses in parents and their children. Read this article to know about 10 steps for stress-free homework time.
1. Divide the Homework
If the homework assignment has to given in 4-5 days then it is better that the assignment is divided into smaller portions and kids are given smaller targets to complete. Each portion can be finished in a day so that before the final day of submission the entire work is complete. If more than a portion of the assignment has to be finished in a day then child must be given breaks in between.
2. Keeping a Second Set of Books
Many children find it difficult to organize their homework and keep on juggling between them so parents can keep set of used books at home so that for children it easier to organize their homework. It is also essential to keep school books, homework books, test books and
tuition
book organized so that it saves time required for searching book when child is studying.
3. Keeping a Fixed Study Area
Parents must ensure that their children have a fixed area for
studying
and doing their homework. Even if it is not possible to have a separate room for the kid but fixed area should be assigned to the child so that he or she can study or do homework without any distraction.
4. Managing Time
To complete the homework assignment in time, the child has to learn time management. Parents must help the child in dividing the free time in such a way that all the activities including homework can be easily done within the stipulated time.
5. Teaching Child to Relax in Between
Some homework assignments can take longer time and strenuous so parents must teach their children different relaxation techniques to get rid of monotony. Deep breathing, walking in the garden etc can help the child to reduce the stress and get in fresh oxygen.
6. Reward Small Achievements
When homework is broken down into smaller parts it is helpful for the child to finish it in time. Parents must appreciate their child when they finish every small portion of their assignment. E.g. giving the child his or her favourite candy, making a glass of favourite milk shake after a specific part of assigned homework is finished.
7. Healthy Eating
A child has to remain healthy physically and mentally to take the loads of homework. Parents must ensure that children are given healthy snacks before they start doing their assignment. If a child is not fed properly with balanced diet, he or she will find it difficult to keep
concentration
while doing the homework.
8. Guiding the Child
There may be some assignments where children need guidance from their parents or elders. It is important that parents guide their children regarding information to be collected, how to organize them and how to present them.
9. Music
Some children might find it easy to concentrate when they listen to the soothing music before doing their homework. Music helps children to switch over to a relaxing mood and they definitely enjoy doing their homework.
10. Staying Positive
Parents must stay positive while helping their children in doing their homework. If parents become impatient then it will clearly affect the attitude of the child.
By following the above 10 steps for stress-free homework time will definitely help the parents and their children in
completing homework
on time and reduce the stresses of doing homework.
Why is it necessary to maintain stress-free environment when children are studying? How to help children complete their homework on time? What are the ways to develop good homework habits in children? Discuss here.