Women's Health Topics
Basics about Menopause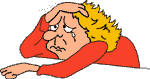 Is your mother or a close relative going through sudden mood swings and spells of irritability and depression? Maybe she is going through menopause. Do you know what it is? Why does it happen? Whom does it affect?
Menopause is the term given to cessation of periods. It is characterized by many symptoms. The ill effects of menopause can be prevented by ERT or estrogen re ...
read more
Menopause is the cessation of periods.It is generally between the age of 45- 50 years. It is a normal aging process. It is due to low production of hormone, ...
read more
Estrogen is a female hormone responsible for female sexual development and reproductive function. It is found in greater amounts in females than males. Estrog ...
read more
DISCUSSION FORUMS ON
Adoption
RE:
Best sprem coll me ... - Vikas ....p.r read >>

RE:
I am with good background.working on good reputed position i need financial help I m ready to donate sperm. Just mail me your details ... - Nilson read >>

RE:RE:Preparing Families for Adoption
I'm ready to sperm donor and please contact me ... - Gk read >>

RE:
I am donate my spm ... - Raja read >>