Top 10 Ways to Welcome New Year with Kids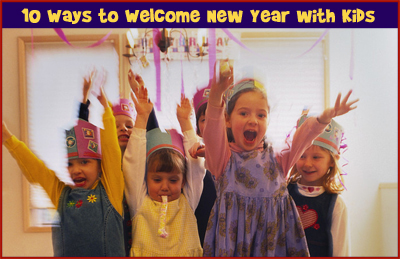 Do you want to make your kids enjoy New Year's Eve the most? You can follow any of the following fun ways to celebrate New Year with your kids to welcome New Year with a bang.
The way you welcome New Year has changed ever since the arrival of your kid. Now, you look for kid friendly ways to celebrate the coming New Year. Themed appetizers and party favours constitute the major part of the fun celebrations.Here are some fun ways to
welcome New Year with kids
.
Fun with Balloon Bunches

Arrange a bunch of balloons and hang them from the ceiling. Drop the bunch when the clock strikes 12 midnight. This can be a wonderful way to celebrate the New Year. Ask your children to grab the colourful balloons filled with candies or small stationeries.

More Fun with Balloons

You can have fun with balloons other ways as well. Ask the children present there to write their wishes in a small piece of paper and put them inside the balloons. Once the balloons are blown, you can hang those using ribbons. Release the balloons when the midnight bell rings.

Snack Pack for the Hungry Guests

You can ask the kids to make their own snack packs to kill their midnight hunger pangs. Give them brown coloured lunch boxes and help them fill up with brownies and cookies. To make it more interesting, you can also ask them to decorate the bags with glitters, ribbons and stickers. This can be a wonderful way to entertain your hungry guests at midnight.

Song, Dance and Party

New Year celebrations are all about fun, dance and songs. You can host kid's parties, games and karaoke competitions to add to the celebration.

Redecorate the Christmas Tree

If you still have the Christmas tree, you can consider redecorating it on the eve of New Year. Include your kids for decorating the tree with streamers, noisemakers and balloons.Putting the holiday decorations away can be very stressful for young children. Children find it difficult to wait for another year. On the New Year's Eve you can turn the Christmas tree to a resolution tree.

Fun with Snow

If you can organise for fake snow on the New Year's Day, you can plan some activities outside. You can play snow games with your kids. Make sure to stay by your little ones if you plan to roast marshmallows and hot dogs on open fire.

Set a Colour Theme

Set a colour theme for your New Year party. To make it interesting you can stick to black and white. Ask your guests to be dressed up in black and white clothes. Make sure the party supplies, cakes, balloons and plates have the same colour.

Looking Back

You can spend the whole evening recollecting the happy times all the year. You can ask your kids to collect drawing, photographs and other keepsakes and put them inside a tennis ball canister or shoebox. You can also ask your kids to capture the fond memories in a scrapbook.

Playful Hats

New Year celebrations appear incomplete without silly hats. Encourage your kids to use recycled papers, ribbons, paper plates and wrapping papers to come up with attractive hats. These hats can be presented to the prettiest, the silliest and the most imaginative kids.

Fun with Noisemakers

Kids love to make noise and especially when it is the New Year Eve. Help them make their own noisemakers with plastic bottles filled with lentils or rice. You can cover them with glitter, coloured paper and other decorations. Your kids can also bang the pots and pans when the clock strikes 12. Mommies, please do not mind the noise, it is the New Year celebrations after all!
Kids can have plenty of fun at home on the New Year's Eve, when it is well planned.Mommies share with us your New Year party ideas and let us know how you have planned to celebrate it with your kids.
How to organise a New Year party for kids? Which are the best New Year party games for kids? How to celebrate New Year with kids? Discuss here.