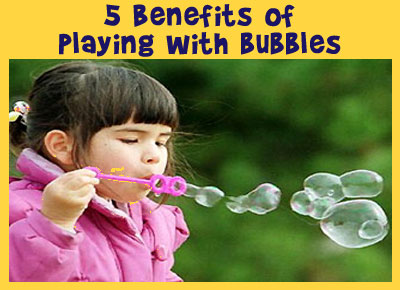 A toddler gets delighted by the floating bubbles that they can chase, try to catch and pop. Every child enjoys playing with bubbles. You can expand this activity by taking your creativity to the next level. You can experiment with shapes so that your child learns the difference between big and small. In fact, it is not just the gross motor skills but also the fine motor skills of your toddler that will help get developed faster.
When it comes to children playing with bubbles, if you allow them to do so, they will play for much longer than you expected. This will not just develop his tracking abilities, but also help his different muscles get strengthened because this involves lot of activities.
---
In this article
---
5 Ways Playing with Bubbles helps Toddler Development
While chasing the floating water balls, toddlers make use of various movements and their motor skills get developed automatically. In fact, this is a whole body activity and also helps your child learn how to balance himself during specific situations.
Chasing Bubbles

– To your surprise you will find that your child will run after the little balls of wonder and will run after it giggling and trying to catch it. This constant running and chasing will help exercise the muscles of your child's entire body and hence strengthen it in return. He will also change directions because the bubble might go in any direction or he tries to catch another bubble which is in another direction, hence developing his sense and skill of changing direction frequently.

Eye and Hand Coordination

– Since your child will watch you blow the bubbles and try to catch them, his eye and hand coordination will get developed in this way. Even if your child is slow in following the bubble initially, he will develop this skill and chase it faster with regular practice.

Trying to Reach the Bubbles

– The child tries to reach out to the bubble and catch it if it seems just high enough to reach. When your child attempts to reach the bubble, he stretches out his entire body, lifts his toes and works the muscles in his feet, legs, arms and torso. This helps strengthen and further develop his growing muscles.

Stomping on Bubbles

– If any bubble goes to the ground you will see that your toddler tries to stomp it in order to pop it. This involves the muscles of lower body. Not only will this help in developing coordination between his eyes and feet but also help him get an idea of depth.

Jumping

– Your child will jump to reach out to the bubbles if they float high up. You will see that even if he falls while doing so, he will use his large muscles and get up as fast as he can and try to catch and pop the bubble that he was chasing. Jumping teaches your child how to balance himself and coordinate his muscles in order to prevent getting hurt again.
If you allow and show your toddler to blow the bubbles, his oral motor skills will also get developed. Blowing is a good exercise for the mouth. However, the child will also develop other gross motor skills like squatting and kicking while following the water bubbles.
Did you know that playing with bubbles helps your toddler's gross motor skills development? Does your child love to play with bubbles? How does your child play with bubbles? Discuss here.