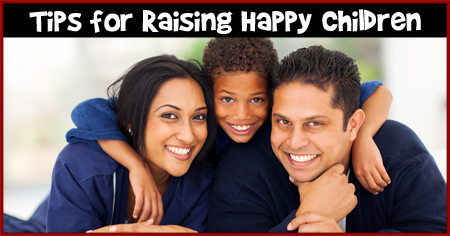 Happy and cheerful children can do well in all walks of life. So, parents must aim at raising happy children to help them become successful individuals. Here are some tips for parents to raise happy children.
All parents wish to raise happy and well balanced children. If children are happy from within, they can do well in their academics as well as in the other activities. Happy children also fall ill less frequently and they never face any major health issues. Such children can handle childhood issues like exam stress, peer pressure, bullying etc; very easily. So, parents must focus on raising happy and well balanced children.
Top 10 Tips for Raising Happy Children
Below mentioned are the top 10 tips for
raising happy children
.
1. Listen to Them Earnestly
Parents should never ignore children when they want to tell something. Parents should always listen to children earnestly. They should show openness to listen to anything that children would like to share with them. Parents should never stop children in between when they are
talking
and let them complete what they want to say.
2. Encourage Them to Express Themselves
It is very important to encourage children to express themselves. If parents feel that their children are facing some issues, they must encourage them to speak-up. If some day, if parents observe that their child is looking sad, parents must try to find the reason behind it by talking to them. If such parent-child relationship is built, children can freely express their problems to which parents can provide right solutions.
3. Praise Them for Their Achievements
When children achieve certain milestones or do something good, parents must surely praise them. Praising children genuinely can boost their confidence which in turn can boost their happiness quotient.
4 Let Them Know Their Strengths
At young age, children are not aware of what their strengths are. Only parents can mark the strengths and weaknesses of children. So, it is the duty of parents to make children aware of their strengths and encourage them to boost such strengths. Children must be aware of all the good qualities that they are made-up of which can increase their happiness.
5. Help Them Work on their Weaknesses
Parents must never insult children or put them down because of their weaknesses. Such behaviour on part of parents can make children feel low. Instead, parents should help children work on their weaknesses and turn their weaknesses into strengths. When the weaknesses of children will turn into their strengths, they will surely feel happier.
6. Teach Them to Value Others
It is very important to teach children to value other's feelings and respect others. Parents must teach children to never make fun of others or insult others. They must be taught to understand how they would feel if somebody makes fun of them or insults them.
7. Teach Them to Maintain Good Relationships
For being happy it is important to maintain good relationships with everyone. Children must be taught that one can never be happy by making others unhappy. They must also learn that they should never bad mouth anyone. Teach them that it is very important to help others, never hurt others and be a good human being in order to maintain good relationships and be happy.
8. Encourage Them to Follow a Proper Schedule
Parents must make a proper schedule for children and encourage them to follow it. They must inculcate a habit in them to do all the things on time. Parents must help children to allocate proper timings for all the activities. Doing all the work on time will help them to give some time for their favourite activities which will help them be happy and cheerful.
9. Get Involved in Their Studies
It is important for parents to
get involved
in studies of children. Parents must be completely aware of the academic performance of their children. They must help children with their homework. Parents must never let the school assignments remain incomplete. Keeping school work always complete and bringing good grades is something that can boost self-esteem and confidence of children and boost their happiness.
10. Talk About the Happy Parenting Moments
Parents must always talk about the happy
parenting
moments with their children. They must always discuss about the happy experience of giving birth to the child. They must discuss about various milestones that their child achieved and how happy they were to see their child grow.To raise a happy child it is very important to be a happy parent. And for being a happy parent, it is necessary to be a happy individual. Finding happiness in small things, having daily family time, having dinner together, sharing happy moments with children and family will surely add-up to the happiness of children.
Why is it necessary to make sure that children are always happy and cheerful? How to keep children happy and cheerful? How does sadness and depression affect the growth and development of children? Discuss here.