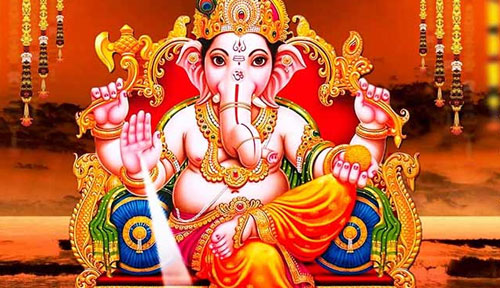 Ganesh Chaturthi is one of the festivals during which Hindus have grand celebration. They bring the Ganesh idol home and worship it for 10 or 11 days. Some people also visit temples or Pandals of Lord Ganesh during these days. Read on to learn more about the significance of Ganesh Chaturthi.
Ganesh Chaturthi is a festival that celebrates the birth of Lord Ganesh, son of Goddess Parvati and Lord Shiva. According to Hindu mythology, Parvati created a human figure from sandalwood paste and gave it life. She told her child to not allow anyone to enter her bathing place while she bathed.No sooner did she leave than
Lord Shiva
came and tried to enter through the door. Ganesh, being righteous and determined to fulfil his duty, did not allow Shiva to enter. Outraged, Shiva separated Ganesh's head from his body with the stroke of his Trishul, killing the child.
Parvati
returned and seeing the state of her child, was immersed in sadness and pain and threw some harsh words at Shiva.Shiva realizing his mistake, instructed his guards to bring him the head of the first child they see whose mother is sleeping with her back turned towards her kid. The guards returned with the head of a baby elephant that Shiva used to give rebirth to Ganesh.Ganesh Chaturthi is celebrated with lots of enthusiasm and vigour over a span of 10 or 11 days. This festival is observed on the fourth day of Bhadrapada or Bhadon month of Hindu calendar which is sometime between August and September.There are a number of lessons that we learn from these celebrations. Let us take a look at some of them.
---
In this article
---
Fulfilling Your Duty
The history behind
Ganesh Chaturthi
teaches us that duty comes first. No matter what the situation may be, never lose focus. Do not compromise on the task that you have been entrusted with even if it puts your life at risk.
Never Backing Down
Ganesh
teaches us that every challenge can be won, no matter what our position may be. Important thing is to never give up. In a race against his brother in which they were required to go around the universe thrice, Ganesh knew that he would not be able to defeat his brother riding a peacock if he rode on his ride, the rat but he did not give up. He circumnavigated around his parents who were the universe for him, eventually winning the challenge.
Power of Wisdom
Ganesh Chaturthi is a time when every child gets to hear several tales of Lord Ganesh. All of these highlight how Ganesh used his wisdom to get things done. For instance, refer to the anecdote above. He used his wit to win the race while also teaching us the place that parents hold in our lives.
End is Always Good
The death and rebirth of Ganesh teaches us that if we are righteous and strong-minded then we will always be happy in the end. Life will throw challenges at us that will attempt to bring us down but if we remain resolute and have faith in ourselves then we will always emerge as winners in the end, overcoming every obstacle that life has to offer.
Communal Harmony
This
festival
brings all families from different ranks together. From young children to the elderly, people of all ages are found dancing to the sound of the dhol. Everyone gets immersed in its sanctity and purity, rejoicing in the celebrations. Most residential complexes use this festival as an opportunity to organize fun games and events for all their tenants bringing everyone closer to one another. People forget all their differences and enjoy what the festival has to offer.There is no sadness in anyone during these 10 days. Everyone forgets their troubles and lends them to Lord Ganesh trusting him with them. People dance to express happiness on the final day on route to immersing the idol of Ganesh. It is a joyful and memorable experience for everyone, giving everyone enough energy and hope to live for an entire year until Lord Ganesh is back with greater offerings for all the following year.
When is Ganesh Chaturthi celebrated? How is Ganesh Chaturthi celebrated by Hindus? What is the significance of celebrating Ganesh Chaturthi? Discuss here.