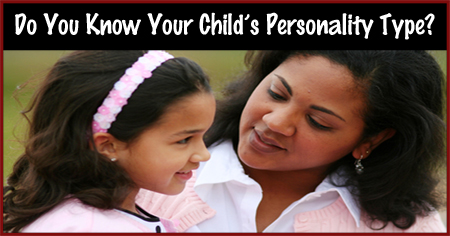 Everyone is unique. If you get to know your child's personality type you will be able to understand him or her better and also help him or her in every walk of life. Read on to learn what your child's personality type is.

Do you want to know your child well? It is important you observe and figure out what his or her personality type is. A child may express surprising and opposite traits, but the fact is that every child possesses both the qualities. If you come to know about your
child's personality
type, it will be easier for you to help him or her achieve his or her goal in life.
There are many books and articles available to tell you about the different types of characteristics that kids have. Once you understand this, you will be able to find what personality trait your child reflects and then it will be easier for you to refine his or her skills and interests as well as guide him or her towards getting a better self.
Types of Qualities Kids Possess
Strong will power


Adventurous


Hyperactive


Shy


Playful


Respectful


Thoughtful


Controlled


Detailed


Imaginative


Determined


Sociable


Talkative


Lively


Outspoken


Adaptable


Orderly


Attentive


Deep


Diplomatic
You must have observed one or more of the above qualities in your child as you observe her daily activities and reactions. However, once you find about the personality type of your child you also need to know why she behaves the way she does.
Sometimes you will be surprised and sometimes impressed by your child's qualities. However, not all the qualities are going to
help your child become successful
in life. So, what you need to do is carefully subside the negative or not so positive qualities and polish his or her positive ones.

Factors Influencing Child's Personality

Have a quick look at the factors that can influence a child's
personality
.
Bonding
The bonding your child has with you is unmatched. So, as a parent, you should do whatever it takes to nurture him or her. You can also help him or her uplift relationship between siblings and other family members.
Education
This does not only mean that you pay attention to your child's academics and help him or her excel in studies. You also need to make sure that the way of education he or she is shaping his or her personality.
Environment
This means the environment at home in which your child lives. You should make sure that the environment in your home is healthy. This becomes all the more important if you have more than one child.
The above three factors are the major and most common ones affecting a child's personality. A child's strongest traits follow to adulthood if he or she is given a healthy home. Also, if a child goes through neglect or any kind of trauma in childhood and he or she is not properly supported, it might be difficult to separate his or her instinctive character that evolved as an after-effect from the trauma.

How to Bring the Best Out of Your Child
If your child is shy, give him or her time to ease. May be he or she is more an observer than a participant.


If your child is active and easy to handle, that does not mean that it will be smooth sailing for you without any effort. Make sure you encourage positive behaviour and offer help when you feel like. Do not expect too much and take care of his or her feelings also.


If your child is joyful and energetic, keep things calm and give clear directions.
No matter what personality type your child reflects, you should value his or her style. Offer healthy ways to help your child express himself of herself and his or her feelings.
How to identify a child's personality type? Why is it necessary to identify child's personality type? In ways will identifying child's personality type help parents as well as the child? Discuss here.