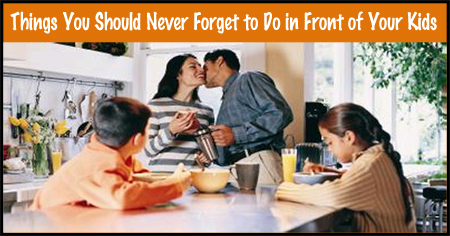 Parents should act wisely when they are with their kids as they imbibe what they observe very easily. Have a quick look at the important things parents should never forget to do in front of their kids.

Like tiny sponges the mind of your kids is constantly focused on what you do or say. Though you may assume that your kid is too young to absorb anything every act that you do leaves a deep impression on them and has an influence on their emotional as well as intellectual growth. Child psychiatrists recommend certain things that parents should definitely do in front of their kids.
Being Affectionate to Partner

Nothing can help your kid better than the demonstration of a healthy loving relationship between you and your spouse. When children observe their parents being loving and affectionate towards each other they learn valuable lessons. The definition of a
happy relationship
or a correct relationship is formed by what kids observe in their parents. A light touch of the hand, a pat on the shoulder and other appropriate gestures will convey the presence of a healthy relationship between partners. Avoiding any kind of sexual contact in front of kids is however recommended.
Help Others

Children learn from role models and the
best role model
that your kid has is you and your partner. Demonstrate to your kid the virtue of helpfulness by trying to help out your partner in household chores, home activities and other tasks. Saying things like "would you like to help me with the dishes dear" or "let us clean the kitchen today together with your mom" will teach your kids how important it is to help out in whatever way possible in the family. In fact go a step ahead by helping people in need
in front of your kids
so that they learn this important virtue from you.
Appreciate and Praise Efforts

A healthy relationship involves delivering both positive and negative feedback. While positive feedback immediately creates a healthy impression in the minds of kids about the importance of hard work being appreciated, negative feedback teaches kids that there are both good and bad aspects of a person's behaviour. The value of genuine labour and consideration towards feelings are the two important lessons that children learn when adults praise and give honest feedback on each other's efforts.
Engagement in Shared Interests

There are many things apart from love that you and your partner share with each other when both of you get hitched. You might belong from different backgrounds and have completely differing interests but it is important for you to demonstrate that you are willing to share time with each other to promote a good relationship. Good shared activities include going for a run with each other, taking up painting as a hobby and cooking a meal together. Your kids learn two important things when they watch you. Firstly, that it is important to do things for the sake of the other partner and secondly that you can learn to enjoy new experiences. Both these lessons will help them immensely in their future.
Giving Space

Though you and your partner may share the most loving of bonds but there are bound to minor disturbances at times between them. When instances like these occur you need to give your partner required space. Giving your partner time off does not translate into not loving your partner and this is a concept that kids will require to understand. There would also be times when you distance yourself a little from your partner and kids and your children will learn to understand that the requirement of space is a basic right in every healthy relationship.
When you understand and follow things you should never forget to do in front of your kids; you teach them
important lessons
which helps them in future.
How should parents behave in front of kids? Why is it necessary to act wisely in front of kids? Which things should parents do in front of kids without fail? Discuss here.