Intelligent Child Topics..
Art and Your Child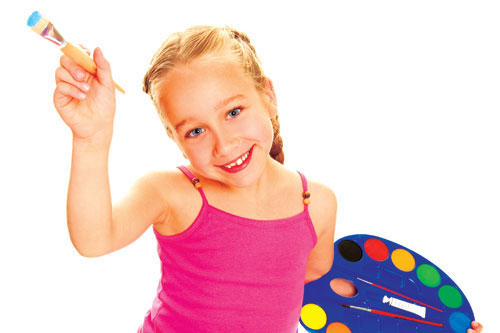 Does your budding M.F. Hussain sit late into the night making sketches of the refrigerator, table or his pet dog? If you have spotted an artistic talent in your child, do your best to encourage it. Your

child

may be thoroughly bored by school work, he may be failing or he may be doing poorly at school. Whatever the situation, art is a great leveler. Grades don't matter here, so instead of pushing your

child

to score ten extra marks at school encourage him to excel at art if that is where his passion lies.
The word 'artist' was once synonymous with struggle. No longer. Children with artistic talent now have numerous opportunities in today's workplace. With art now being affordable by many, the struggle has lessened. Not every artist will earn lakhs per painting, but even if your

child

can sell a few moderately priced paintings every month, he should be able to eke out a very comfortable living and as time goes by his paintings should command a higher price.
Your

child

could get into commercial art, which involves design for commercial purposes. Take a look at the bear on your Kellogg's box. It was drawn by an artist. In fact, the entire box was designed by a commercial designer, or perhaps by an entire design team. Every sketch in your favourite magazine was drawn by an illustrator. Almost every ad agency, magazine and other media or design-related job requires a person or a team of people who can draw, so don't worry about whether or not your

child

will do well as a commercial artist. Realize that a person can do very well, or very badly, in whichever field he enters. It all depends on how good he is at his job and on how focused and dedicated a worker he is.
Enrolling your

child

in art classes is a good step, but you may need to do more to further your child's interest in the subject to enable him to make an informed decision at a later date about whether he wants to keep art as a serious extra-curricular activity, or whether he wants to turn it into a career. Do this by taking him for exhibitions at art galleries and museums in your area. Bombay's Jehangir Art Gallery is a hub for artistic activity.
Take your

child

with you for an art purchasing venture and let him pick out a painting that he likes. If you don't want to shell out the big bucks involved in purchasing an expensive painting take a walk outside the art gallery where you will see numerous young, talented and upcoming artists displaying their work.
Even if your

child

chooses to paint as an extra-curricular activity, this hobby will keep him gainfully occupied through his college years in India if he is taking up a stream which allows him a lot of free time. When your

child

embarks on his career, painting is an activity which will provide him with immense relaxation for years on end. And later, much later, when your

child

has retired from his job and his colleagues find themselves at lose ends having nothing to do
- and all the time in the world to do nothing, your

child

can go back to what he knows and loves. Art.
You may also be interested in:
Back to Previous Page | More on Intelligent Child Index