Your children will love making these adorable egg-shell faces. Guide your children to collect the following items:


Empty eggshells
Coloured glaze paper
Scissors
Wool (black)
Glue
Brush
Sketch pens
Marble papers
Painting brush and paint
Permanent marker
Clay
Tooth picks

Directions

Take a large egg, make a hole on the top and carefully empty the yolk and albumen from inside. You can also take an empty thrown away eggshell. Paint it with any light colour like cream, lemon yellow or peach and let it dry.
Face of a Girl or a Boy
Paint two eyes with black, the nose with red and lips with pink. For the hair, take black paint or stick some strands of wool on the top of the forehead with the help of the glue. To denote a girl's face, tie some strands of wool to make a plait and stick on both the sides of the face.
Face of a Clown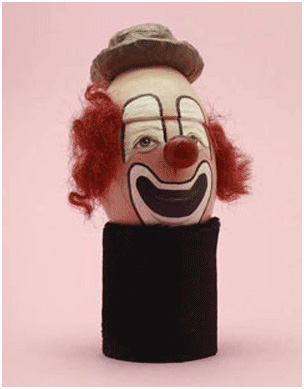 Draw two eyes, a nose and a smiling face in the shape of a semicircle. (Remember to paint the nose red!). Cut a cone out of the glazed paper to make a cap and stick it on top of the head.
Penguin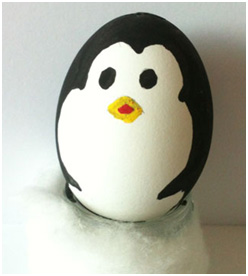 You need to draw a peak with yellow and red colour and two big dots as eyes. Draw hands with black paint and paint rest of the part leaving an oval space in front such that it is covering the portion from penguins head to toe as show in the picture.
Pig

Take an eggshell and paint it with pink colour. With some clay preferable which is red or pink in colour make its mouth. You can take a small oval shaped ball. Now press this ball to make it flatter and make two holes on it using a tooth-pick. Similarly, make its ears, legs and small tail using clay. Draw two eyes using a black marker or a black sketch pen.
Funny Faces

Your child can just draw funny faces using black marker or a black sketch pen on eggshells. Encourage your child to use his or her creativity while doing so.
Humpty-Dumpty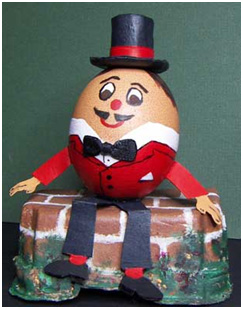 On half portion of eggshell draw two big eyes, eye-brows nose and mouth using a black sketch pen or a black marker. On the remaining portion draw a shirt along with a tie using colourful sketch pens or paint of your choice.
Extend the Activity Toother Shapes

You can also draw faces of animals like a bunny, a bear, a cat or a mouse. Use your imagination to portray Santa Claus or other cartoon characters like Mickey Mouse. Let your child suggest some characters from real life.
Your children can not only make faces on the eggshells but also they can make different things that they come across in their day-to-day life. They can make vegetables like brinjal, strawberry, pineapple, watermelon, avocado etc. They can also paint things like aeroplane, rugby-ball or any other thing of their choice to experiment with their creativity.
Getting Creative with Eggshells

Children can do a plenty of things using eggshells. Here is a list of things that children can do using empty eggshells.
Eggshell Mosaic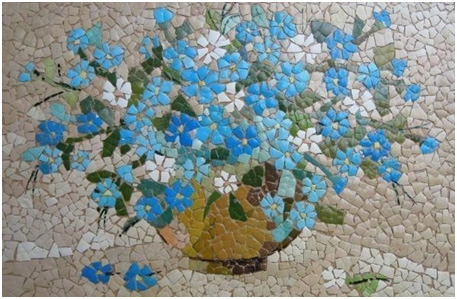 Encouraging kids to create an eggshell mosaic is the best way to encourage art and creativity in them. Coming-up with different mosaic ideas will help to stimulate their brain. It is a great activity to keep kids involved in their free time. It is very easy to make a mosaic using coloured pieces of eggshells.
Eggshell Carving and Designing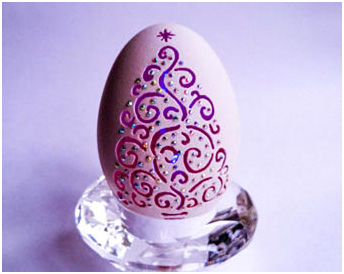 If your child likes designing, you can surely encourage your child to take-up eggshell art. He or she can do craving as well as designing on eggshells.
Eggshell Gardening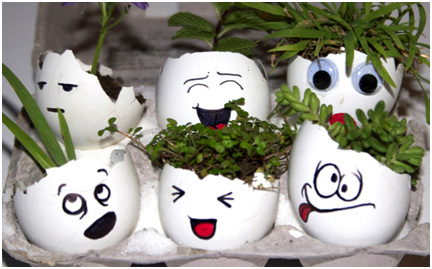 Eggshell gardening is a great way to help kids develop love for plants. He or she can develop his or her own miniature garden with eggshell. To begin with, your child can grow grass in these egg shells.
You can ask your child to think of his or her own ways to use eggshells in creative ways and see how your child can create magic just with eggshells. Not only eggshells but also things like seashells, coconut shells and other shells can also be used to create artistic pieces.