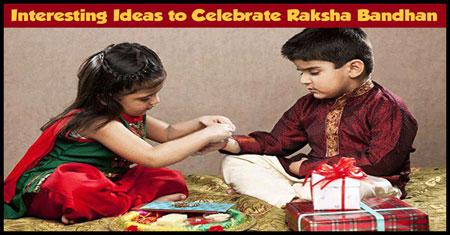 This year make your Raksha Bandhan celebration memorable by following some interesting ideas. Read on to learn about interesting ways to celebrate Raksha Bandhan right here.
The festival of Raksha Bandhan has been celebrated down the years as a way to mark the love between brothers and sisters. This year the 2015
Raksha Bandhan
date falls on 29th August which is a Saturday so and your
siblings
can have some fun time together. If you are tired of the same old sweets and lunch routine then check out these interesting celebration ideas.
Walk Down the Memory Lane
Brush off the dust, flip the pages and transport yourself back to your childhood when you used to play games, fight over chocolates and eat from the same tub of ice cream together. If as adults you have grown a little apart and aloof from each other then this episode will fill your eyes and your hearts and bring you closer. Keep the tissues ready as things are bound to get a little emotional.
Impromptu Trip
The Raksha Bandhan Day is meant for strengthening the bond between brothers and sisters. And what could be a better way to bond than to take an impromptu trip together. Choose a fun destination like a beach or a resort on the fringes of the city or a place which has an amusement park or water park nearby. This way you will get a lot of time to spend together and create moments of unadulterated joy just like old times.
Movie Marathon
Flip out with each other over a massive movie marathon session. Some great Bollywood
brother-sister
theme centred movies you could watch are Pyaar Kiya Tho Darna Kya, Josh, Raksha Bandhan, Dil Dhadakne Do, Hum Saath Saath Hain etc. These are movies that depict the true essence of the bond between brothers and sisters and are sure to make you all feel warm and emotional. Arrange for some interesting snacks and bubbly to make the movie session interesting.
Cook Together
This idea is super fun and does not require much time investment. However, this will work only if the brother and sister duo have at least a sketchy idea about cooking. Go into the kitchen together, chop the veggies hunt for the spices and cook together…this is one of the best and most productive ways to bond. Further the act of cooking together will let you do things in partnership just as how you used to do in the past. For more fun bake a cake together and put icing on it that says "Happy Raksha Bandhan".
Make a Collage
A collage depicting all the crazy and fun things that you used to do together as kids is a great way to inject some fun and flavour into your Raksha Bandhan this year. Print out on paper, the old pictures that you have along with the recent ones you have on your phone. Now arrange the pictures in a way that depicts your journey together as
friends
, brother and sister and partners in crime. Stick the pictures on to hardboard or cardboard, embellish with funny stickers and some pen art before getting the whole thing laminated. If you are doing this for your brother then you are sure to send him into sentimental overdrive and this Raksha Bandhan you are sure to get some fabulous
gifts
in return.
Play Games Together
Playing games together was principally what you used to do as children. Recreate those memories by fighting it over video games or plotting over chess. For those of you who like simple stuff even Ludo, Scrabble and Chinese Checkers is fine as long as you are doing it together. Keep a penalty like the one who loses should treat the other for movie, lunch or shopping etc.Enjoy this day at its fullest!!!
How to make Raksha Bandhan celebration memorable? Which are the unique gifts for Raksha Bandhan? Which are the interesting ways to celebrate Raksha Bandhan? Discuss here.