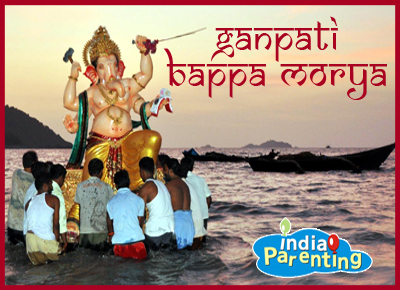 Safety always comes before the celebration. Know what precautions are necessary to be taken during Ganesh Visarjan.

Ganesh Chaturthi comes once in a year and is celebrated for almost eleven days. In these eleven days of Ganesh Chaturthi, Visarjan is done according to various periods of time, like after one and a half day, five or six days, seven days and eleven days. As Gauri pujan falls during Ganesh Chaturthi, Gauri Visarjan also takes place along with Ganesh Visarjan. These eleven days are full of joy for all the Hindus. Along with enjoying this festival there are some precautions that should be taken during Visarjan. Read on and know more about the alertness that you should posses during Visarjan.

Precautions during Visarjan
To avoid possible dangers during Visarjan you should keep in mind a few simple things. Make your Ganesh Chaturthi happier and safe by following certain rules of thumb.

Processions

Visarjan is incomplete without procession. Devotees from all the age groups take part in these processions. All the devotees celebrate their joy by dancing on the roads during these processions. Before starting the procession you should always think about the route which the procession will follow. The responsibility of guiding the procession should be entrusted to at least two persons. One should guide the road traffic and other should lead the procession through the correct route.

There should be at least four people to hold the ropes form both the sides of the processions. This will help the processions to move ahead easily and will be convenient for vehicles to avoid accidents. Ask the mothers taking part in the procession to take care of their own children.

Crackers

You should make sure that you light crackers in open and wide space. As there is lot of crowd on the roads it may be dangerous. You should see that kids are away from the crackers. You should avoid lighting crackers while the processions are moving on the road. This will help avoid pollution. Lighting crackers is not the only way of expressing happiness and joy.

First-aid box and water
First-aid box and water are the two important things to be carried during Visarjan. Though different political parties organise such things but they may not be available when you require them. To be on a safer side you should always keep these two things with you. You can hand over these things to an elderly person. You may also keep these things in the procession van or cart. These things are not too difficult to carry and are important during processions

Start at the right time
The Visarjan procession should start at the right time. If the processions leaves late there will be lots of crowd on the roads and also on the sea-shores. The Police force on duty may not allow you to play music and band on the road if you are late. Instead of playing loud music and music band on the road you can sing Aarti or Ganesh Vandana or Jai Ganesh, Jai Ganesh chants during the procession. You can also use traditional instruments like Lezim or Taal. This will prove cost-effective as well as avoid noise pollution.

Precautions at the sea-shore
If the idol is too big you can arrange for a boat. At least three to four men who can swim should enter the sea. Keep the children away from this task. Make sure that the life-guards are present at the sea-shore. Make sure that you do not throw the garlands and flowers offered to the idol in the sea. Immerse the idol in artificial ponds created by the government if available.

Try to celebrate Eco-friendly Ganesh Chaturthi as far as you can. This will make Ganesh Visarjan safer for you and others too. As pollution hazards are increasing day by day you should buy small Ganesh idols. All the Ganesh idols either small or big give equal amount of blessings to devotees. Remember that safe celebration means unlimited happiness and blessings form Lord Ganesh.