Child's Healthcare Topics..
Accident Prevention In Childhood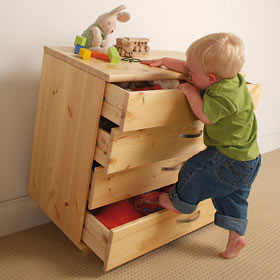 Accidental injuries to infants and young children are often serious, but are largely preventable with appropriate information and safe practices. Young children are particularly vulnerable to accidents due to their innate desire to explore their world and the inability to perceive the dangers of their actions. As children learn through experience, minor injuries are inevitable but providing a safe environment can reduce the risks, coupled with close supervision and setting the limits of safety. Parents should remember that they need to maintain a constant balance between overprotecting the child on one hand and giving him freedom in his process of learning the hazards of his environment.


What to do to Prevent Accidents in Young Children?
Specific Do's
Use appropriate barriers for stairs, landings, rooftops and fireplaces. Vertical banisters for windows are preferable to horizontal ones, as children cannot climb upon them out of curiosity and risk falling from a height.
Supervise young children particularly during the use of fireworks, escalators, kite- flying and swimming.
Use dummy plugs to cover unused sockets and install safety circuits. Alternatively place heavy furniture in front of them.
Keep your cupboards securely locked, as these are one of the favorite places for young children to hide. Accidental closure can result in choking.
Always read labels carefully before administering any medication to the child. All medicines should be kept away from children's reach as even apparently harmless tablets and syrups such as iron tablets and paracetamol can prove dangerous as they look attractive and may result in a fatal overdose if taken accidentally. Discard all old and partially used medications.
Instruct your children to hold on firmly to swings, slides, and seesaws while playing.
Small objects like beans, buttons, beads and safety pins must be kept out of reach of children particularly below the age of two years.
Teach your child to look left and right before crossing roads. Preferably, make your child wear brightly- colored clothes, as it is safer while walking at night.
Preferably, young children should be made to sit in the backseat of the car. If they sit in front, the use of seat belts should be mandatory.

Specific Dont's
Never leave your infant or young child alone near a bathtub, bucket, hot iron, teapot in the kitchen, etc.
Do not allow children to play with plastic bags covering their heads and faces, as these can cause asphyxiation.
Do not hold your baby in the lap while drinking anything hot or while cooking.
Do not allow children to play and run with sharp objects in their mouths. Accidental falls can result in severe lacerated wounds in the mouth and throat.
Do not allow children to perform new skills without giving them proper demonstration and training.

Anticipating potential dangers and taking simple measures will go a long way towards preventing suffering and making your home a safe place for your little ones.

You may also be interested in:
Back to Previous Page | More on Child's Healthcare Index