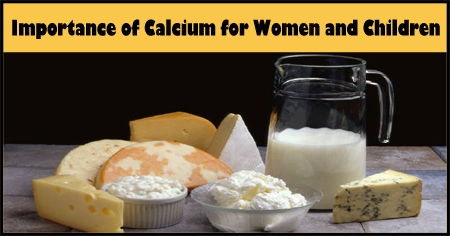 Do you want to know the importance of a calcium rich diet for you and your child? Find out importance of calcium for women and children right away.

Calcium is an essential mineral required for the human body. It helps to keep the bones and teeth strong and healthy. It is found in various dairy products and helps in the growth and development of the human body.
Here are some reasons why calcium is essential for you and your child's health.

Makes the Bones Strong
Calcium makes the
bones strong
. Children who take
calcium rich foods
right from a young age are protected from bone related problems in the future also. Children who eat calcium rich foods are less likely to suffer from osteoporosis and other bone related problems. They are less likely to suffer from bone or tooth related problems.
Calcium during Pregnancy

Calcium is essential for pregnant women. Studies show that intake of calcium during pregnancy benefits both mother and baby. A calcium rich diet during pregnancy ensures that your baby is less likely to suffer from blood pressure related problems in the future.
Growth and Development

Teens and pre-teens are growing everyday hence, their intake of calcium must be sufficient. Calcium is required by all people of all ages; however certain age groups require more of it. Calcium helps in the formation of bone mass; hence it is a very important mineral. A diet poor in calcium can lead to weak bones. It is important to have a strong skeletal system, hence ensure that your son or daughter gets his or her sufficient dose of calcium.
Foods Rich in Calcium

Dairy products such as yoghurt,
milk
and cheese are a good source of calcium. Pregnant women and children must eat plenty of green, leafy
vegetables
such as broccoli which are a great and wonderful source of calcium. Nuts and legumes, soya and orange juice contain rich amounts of calcium. If your child is a
fussy eater
, then you can try interesting ways to include calcium in his or her diet.
Vitamin D and Calcium

Vitamin D helps the body to absorb calcium better, hence ensure that your son or daughter gets at least 400 international units every day. Sunlight is the best source of Vitamin D, hence ensure that your son or daughter is exposed to sunlight at least once or twice a day. However, avoid going out in the scorching heat. Even toddlers can be taken out in the pram for a little while. Milk, cereals, orange juices and yoghurt are some other sources of Vitamin D.
Calcium for Women

Calcium is important for women. According to studies, there are far more women who develop osteoporosis than men. Osteoporosis is a bone related problem. Women who take a daily dose of calcium can live longer according to studies and researches. There are many dairy as well as non-dairy products which are rich sources of calcium. Protect your health and your kid's health with this important mineral.
Calcium Benefits

Calcium is an integral part of muscle, teeth and bone formation. It is stored in the teeth and bones. It also makes the gums strong. Everyone right from toddlers to teens require this essential mineral. It is during the teenage years, that bones absorb maximum amount of calcium from the blood after which they stop absorbing this mineral. Hence, ensure that your kids get this important mineral.
Apart from calcium, kids can build strong bones through physical activity and exercise. You can consult your paediatrician regarding calcium supplements for kids if required. Calcium and Vitamin D are both important for children during early years of growth and development.
Which are the rich sources of calcium for children? How to include calcium rich foods in the diet of children? What are ill effects of calcium deficiency in women and children? Discuss here.