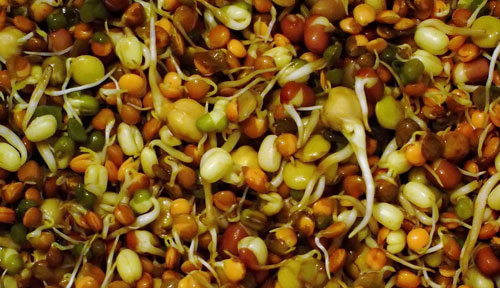 All of us know that proteins are building blocks of body and growing children need lots of protein in their daily diet. Sprouts are the best protein food available anywhere and very easily. Read on to learn about the health benefits of sprouts for kids.
Sprouts are considered as the best food that kids can have to help them have a healthy growth. The nutrition in
sprouts
is 30 times more than the cooked food you provide to your kids. They are pure and natural and full of nutrients. They are the cheapest and most convenient form of healthy food.
Benefits of Sprouts for Kids
Learn about the nutritional benefits which you can provide to your kids by including sprouts in their diet.
1. Have Increased Vitamins and Minerals
Sprouting increases the vitamins and mineral content of seeds and nuts and increases the absorption of nutrients from these foods as well. Vitamin B, Vitamin C and carotene gets increased dramatically after sprouting the seeds and nuts.
2. Good Source of Protein and Antioxidants
Sprouts are considered as a good and easily accessible
source of protein
and anti-oxidants. Experts are of the opinion that after three days of sprouting the antioxidants increase 10 times.
3. Sprouts are in Pre-Digested Form
During sprouting, starch, proteins and fats are broken down into pre-digestible stage and the portion of water and fibre increases enormously which is very beneficial for the digestive system.
4. Good Source of Chlorophyll
Sprouts are not just excellent source of chlorophyll, but also have anti-inflammatory and anti-bacterial properties.
5. Helps in Weight Loss
Children who are overweight or obese, they can lose weight by adding sprouts in their daily
diet
. They will keep your child feeling full for long. Your child will feel satisfied only by a handful and this will prevent him or her from overeating.
6. It is Complete Nutrition
Sprouts are a storehouse of
essential nutrients
like proteins, vitamins, minerals and enzymes and that too in an inexpensive way.
7. Easily Digestible
Sprouts are highly digestible so they can be included in the daily diet of children.
Beans and nuts are the best things to soak and sprout. However, few nuts like walnuts and pecans can be soaked, but they do not sprout. Alfalfa seeds are said to become harmful for humans when sprouted because it can constrain the immune system. Flaxseeds are difficult to sprout and so they are usually avoided to be included in sprouts. On the other hand, red kidney beans should not be sprouted because they develop a toxic compound when sprouted. They should be soaked, but cooked before eating.
Best Things You Can Sprout
Most grains
Most nuts (except the ones listed above)
Most seeds like pumpkin, sunflower, sesame, chia, broccoli, red clover and radish
Most beans - lentils and moong beans are most commonly sprouted
The best thing about sprouts is that they are inexpensive and can be easily grown at home. They are considered as super foods because they can be prepared and are simple way to add extra nutrients to the daily diet of your child. You do not need a garden or a big space to sprout beans and nuts. A simple kitchen jar can help you prepare some very easily.Most of the parents look for organic foods and other health foods and
recipes
. One of the easiest and simplest yet extremely overloaded with nutrients is accessible inside the kitchen, which most often get overlooked. Including sprouts to the daily diet of your child can bring wonders and add dramatically to the nutrient value of the daily diet of your child. Make sure you take all precautions and clean the utensil thoroughly before putting the beans or nuts on the journey to sprout.
What kind of sprouts can be included in the diet of children? Is it safe to include sprouts in the daily diet of children? How to include sprouts in the diet of children? Discuss here.