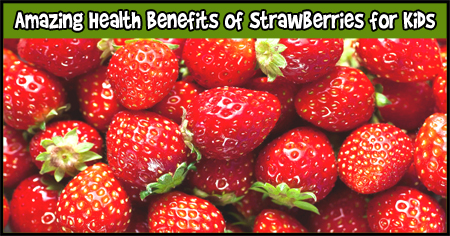 Strawberry is one of the wonder fruits that can provide immense health benefits to children. To know about the amazing health benefits of strawberries for kids read on.
Strawberry is one of the wonder fruits that can provide immense health benefits to children. To know about the amazing health benefits of strawberries for kids read on. The colour of strawberry attracts every kid without a doubt. Its unique appearance absolutely brings water in mouth. A little sour and super sweet bona fide fruit is here which definitely you can add to your kid's daily meal. You can add strawberry in
breakfast
with cornflakes; make a
milkshake
and serve it at evening with snacks, serve strawberry dessert after dinner or lunch. Most kids love to eat strawberry because it is juicy and very tasty. Strawberry is a highly nutrient rich fruit. The fruit is a huge source of Vitamin C. Apart from that strawberry is also a good source of minerals and carbohydrates.
Protects from Scurvy
Strawberry is very good to protect children from a common disease known as scurvy as it is packed with vitamin C. Every mother should be warned of this childhood illness. Due to the deficiency of vitamin C kids can have gum and teeth related problems which can be prevented by consuming strawberries.
Immunity Booster
Vitamin C also boosts up
kid's immunity system
. Strawberry is here to serve them immense amount of Vitamin C. If kids eat strawberry each and every day then they can be protected from seasonal health issues. Kids can also protect themselves from some dreadful diseases caused due to poor immune system like pneumonia, bronchitis, sinus, inflammation and anaemia. So let your kids enjoy Vitamin C packed strawberries.
Protects Against Cancer
It is very important to know for every parent that strawberry is very good source of phytonutrient quercetin as per the researchers. These phytonutrients destroy cancer-cell. Apart from that as this fruit is also a vast source of Vitamin C which too helps in preventing cancer. Strawberry is also has ellagic acid which suppresses cancer cell growth by its anti-cancer properties.
Helps in Digestion
Strawberry is a rich source of fibre. That is why its helps to digest food which is very important for kids. Fibre deficiency in kids can lead to gastrointestinal related health issues such as diarrhoea, constipation, tummy pain etc.
Controls Bad Cholesterol in Kids
Due to presence of phytonutrient like flavonoides and ellagic acids, strawberry also helps to prevent any kind of heart related issues in kids. These two phytonutrients also minimise the risk of having bad cholesterol in body of kids.
Helps In Maintaining Eye Health
The nutrient Vitamin C present in strawberry controls eye health of kids. Vitamin C protects eyes from sunlight and free radicals of nature. Apart from this vitamin C helps to keep the retina and cornea intact. So strawberry is very important for your kid's eyes.
Strawberry boosts up kid's
brain health
. Every parent wants to make his or her kids sharp and smart. So there is no requirement for any health supplement as strawberries can improve your kid's brain function too. Strawberry is absolutely a complete
fruit
for kids. The versatile benefits of strawberries provide your kids a good physical and mental health. So be happy with strawberries and do include them in the diet of your kids.
How to include strawberries in the diet of children? What the benefits of including strawberries in the diet of children? Are there any risks associated with excessive consumption of strawberries? Discuss here.