Eating Yourself Back Into Shape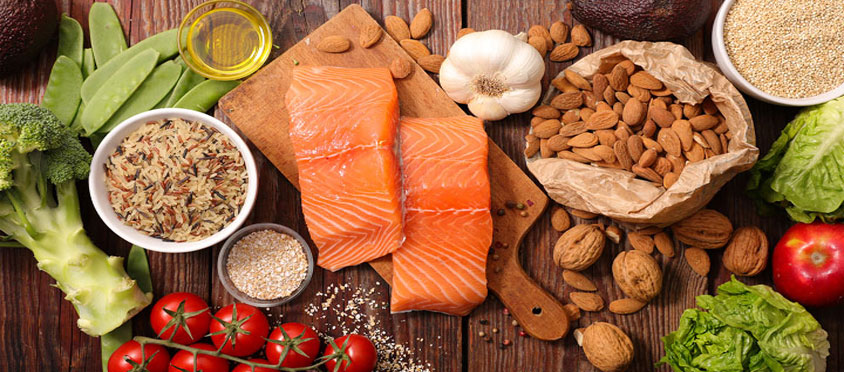 Getting back into shape after having a baby is an uphill task for some women. We have made this task easy, by way of some pointers for losing weight in a healthy manner. Read on get yourself a fabulous body in a short time.

Once the baby is out, women have no excuse for bulging, sagging bellies. Now that they aren't any more, people look them over with customarily critical eyes. Forget about what other people think, almost every woman would like to regain her former slim silhouette - and pronto.
For all of you who are too lazy to exercise, starving yourself is not the answer. At this stage, it is of utmost importance that you eat a nutritious diet that will boost your energy levels, help you produce enough milk, and shed the extra weight.

Things to keep in mind
Try to ensure that every thing you eat is of some nutritional value.
1500 calories should be the result of three well-balanced meals rather than one sinful fast-food binge.
Eat regular meals. An irregular eating schedule will lower your energy levels, could affect your milk production in the long run, and does nothing for weight loss.
Avoid processed foods as they are less nutritious and often contain chemical preservatives, artificial colouring, saturated fats, sugar, etc.

Banish cakes, biscuits, pastries, and processed, canned or frozen food from your diet. They all contain sugar in some form or the other. Sugar is the enemy in the battle of the bulge.
Cut down on tea, coffee and alcoholic beverages.
Make 'eating healthy' a family project so you don't feel like a martyr and the rest of the family stays healthy too.
Remember that while you should eat enough to sustain your energy levels and to breastfeed, you should also be losing weight gradually. So weigh yourself regularly to monitor your weight loss.

The ideal postpartum diet

| | | |
| --- | --- | --- |
| Nutrient | Quantity per day | One serving equals (e.g.) |
| Protein | 3 servings if nursing, 2 if not | 2 1/2 to 3 glasses of skimmed milk; or 3/4 cup low-fat cottage cheese; or 3 to 3 1/2 ounces fish, meat, or chicken; or 2 eggs plus 2 whites or 5 egg whites. |
| Vitamin C | 2 servings if nursing, 1 if not | 1/2 cup strawberries; or 1/2 grapefruit; or 1 small orange; or 3/4 cup citrus juice; or 2/3 cup cauliflower; or 1 cup cabbage; or 2 small tomatoes. |
| Calcium | 5 servings if nursing, 3 plus if not | 1 1/2 ounces Cheddar cheese; or 1 cup low-fat milk; or 1 3/4 cups low-fat cottage cheese; |
| Green leafy vegetables and yellow fruits and vegetables | 3 if nursing, 2 or more if not | 1/4 large mango; or1 large peach; or 1/2 small carrot; or 1/2 cup cooked greens; or 1 large tomato. |
| Other fruits and vegetables | 2 or more servings | 1 apple, pear or banana; or 2/3 cup cherries or grapes; or 1 slice pineapple; or 2 cups watermelon; or 1/4 cup raisins; or 1 cup bean sprouts, eggplant or onion; 2/3 cup green peas; or 1 small potato. |
| Complex carbohydrates | Six or more servings | 1/2 cup cooked brown rice; or 1/4 cup cornmeal; or 1 serving ready-to-eat whole-grain cereal; or 2 tablespoons wheat germ; or 1 slice whole-grain bread; or 1/2 cup lentils, beans or split peas; or 1 ounce whole-wheat or high-protein pasta. |
| Iron-rich foods | 1 or more | Chick-peas; dried fruits, soy products, spinach and liver. (Examples of iron-rich foods). |
| High-fat foods | Small amounts - depending on ideal body weight. An adult should not get more than 30% of his calorie intake from fat. | Cheese, whipped cream, whole milk, ice cream, red meat, french fries, biscuits and cakes. (Examples of high-fat foods). |
| Salty food | Limited intake | Avoid potato chips, slated peanuts, and pickles. Unsalted cheeses and low -salt food is preferable. |
| Fluids | 8 cups if nursing, 6 if not | Water, fruit and vegetable juices, milk, and soups. |
You may also be interested in: