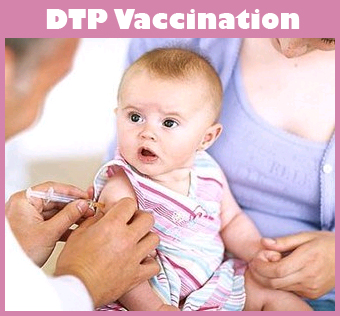 DTP vaccine must be given to babies to provide protection against diseases such as Diptheria, Tetanus, and Pertusis. Read on to know the importance of DTP vaccination.

DTP vaccination is probably the very first one which is given to babies. This is the vaccination against diseases like Diphtheria, Tetanus and Pertusis (DTaP). Tetanus is basically a fatal disease and the most frightening fact about it is that it can act real quickly and kill the patient even before the body can respond naturally to the virus.
Every year, almost 1 million such cases of tetanus are seen and among them, 300,000-500,000 patients die. This disease is a global one because the tetanus virus or spores are available everywhere. However, because the vaccination system is truly advanced in the UK, tetanus cases are very less there and only around 10 tetanus cases can be seen annually.
Tetanus has high chances of occurring in the baby whose mother was not DTP vaccinated. It can also happen if the patient gets an animal bite, abrasions,
burns
or surgery. Hence, the next time you get a deep cut or wound, make sure that you are vaccinated with DTP or DTaP.
Symptoms of Tetanus Toxin
If a person is infected with the tetanus toxin, he or she will get high fever with sweat. Severe muscle contraction is also one of the major symptoms of tetanus. Rapid heart rate, high blood pressure, and breakage of bones might also take place due to the contraction of muscles. The spasms in the body and the vocal cord along with problems in breathing are the other very common symptoms of this disease.
Who Should Get Vaccinated?
Infants and kids below seven years of age should be given this vaccine.


Those who belong to the age group of seven to nine years and are incompletely vaccinated against tetanus should be given the DTaP vaccine.


Adults belonging to the age group of 19-64 years can also get a DTaP vaccination if their past DTaP vaccination happened more than 10 years before.


Women who are less than 65 years of age should get a vaccination if she has the chances of getting pregnant.


Women who didn't get a DTaP vaccine before in her life should get a tetanus vaccination.
Who Should Not Get DTP Vaccination?
If the person is prone to allergic reactions post any kind of vaccinations then he or she is not suitable for a DTP vaccine.


Someone with a history of encephalopathy (seizures or coma) should not take a DTP vaccine.


People with any kind of brain related issues which often get serious should not get this vaccination.
Side Effects of DTP Vaccination
Generally, the DTP or DTaP vaccination is 95% effective and prevents the patient from all the three diseases, i.e. diphtheria, tetanus and Pertusis. However, the protection rate is generally higher for tetanus and lower for Pertusis. This immunity will last for 10 years and hence a booster vaccine is needed after every 10 years in order to maintain the immunity of a person. If a person is partially immunised, he/she is prone to get diphtheria but it will not be that severe. Apart from all these,
DTP vaccination
doesn't have many violent side effects.
Symptoms of the Disease
Muscles get contracted or the patient feels spasms around the wound.


High fever and soreness in throat.


Breathing difficulties.


Excessive sweating.


Diarrhoea and bleeding in the stools.
Who Can Get Affected Easily?
The DTP vaccine was introduced in 1960 and hence, those born before 1960 might have not got the vaccine in their childhood. So, they are prone to the disease. Those who have not completed the full
vaccination
course or the ones using intravenous drugs might be affected easily. Poverty-stricken people who live in places where vaccinations are not available are also susceptible.
So if you have small baby, you must make sure that all the DTP vaccinations are given on time. You must consult your baby's paediatrician if you have missed or not given DTP vaccination to your baby.

What will happen if pregnant woman is not vaccinated against DTP? What is the schedule for giving DTP vaccination to babies? Are there any side effects of DTP vaccine? Discuss here.