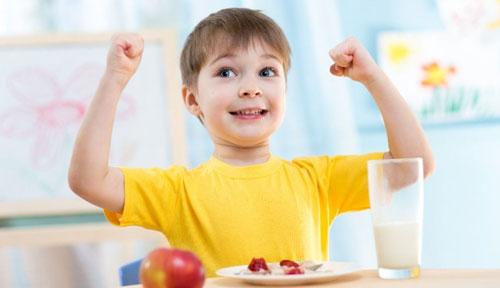 Parents must follow right measures in order to boost immunity of children. Here are 5 healthy habits which parents can inculcate in children in order to boost their immunity.
With the upcoming issues and consequences among the kids, parents must take enough interest to boost child's immune system. Think of the ways to protect the kid from the various and limitless range of germs that they are exposed to in their day-to-day life. There are few cardinal guidelines to keep the family healthy and keep them away from some common illnesses. Below mentioned are the best healthy habits for
boosting immunity of kids
.
---
In this article
---
1. Balanced Diet
Foods rich in antioxidants play an important role in boosting immune system. A well-balanced diet that has a rich immune maintaining content aids in formation of infection fighting white blood cell and perform the necessary actions to guard against sickness and allergies. There are many super hit dishes to include in regular food habit, particularly when quarrelling with the
cold
and flu season. Many studies have proved that garlic contains antiviral and antibacterial possessions. Garlic, mushrooms, colourful vegetables, nuts, berries, fish, yogurt, persimmons, and poultry are some of the foods which are high in protein and zinc and they help in increasing the white blood cells production and T-cells to fight with
infection
.Vegetables and fruits like carrot, beans, strawberries, and oranges contain immunity boosting vitamin C and carotenoids. Phytonutrients present in veggies and fruits aids in increasing the construction of infection fighting blood cells and interferon. Interferon is an antibody that covers cell shells and stops the entries of viruses. In addition, body can be easily protected from diseases like cancer and heart issues through the phytonutrients. If a child takes up five servings of veggies and fruits, he or she can get rid of many health issues in adulthood and boost up immunity power right from childhood.
2. Sound Sleep
It is shown by many researchers that sleep is very important for kids to boost immunity power and for a common good well-being. Assortment of intellectual and corporal health problems are linked to lack of sleep along with heart problems, diabetes, and obesity. Interruption in hormonal functioning system and condensed failure of facing infections or allergies arises when there is an absence of sleep. Usually, people are undervaluing the significance of kid's sleep in the current days as the parents are running behind many other factors like money, education, profession, and maximizing the properties. Every parent should take their responsibility to prepare a best bedtime practices and ensure the child is getting enough naps whenever required.
3. Workout or Exercise
As per many studies, reasonable and regular amount of workout or exercise boosts the immune system. Minimum of thirty minutes' exercise can really help in increasing white blood cell bustle and circulation all over the body. Too much of exercise has negative impacts and hence, it is best suggested to go on with a moderate level. Bicycling for a few minutes, 20 to 30 minutes of walk and playing outdoor games make the kids healthier and enthusiastic. Instead of forcing kids to go out and play, parents can also join them and accompany in their activities.
4. Enough of Rest
Increasing load of studies, exams, projects, school tests and expectations to be good at extracurricular activities can causes stress in children. Plenty of time to rest and play would help the kids to calm down and be away from stressful period. Educate them to practice deep breathing exercises for relaxation and this can really increase the immunity power.
5. Loving and Caring Atmosphere
Children need loving and caring atmosphere to
grow in a healthy manner
. Parents should take active interest in spending quality time with them and showering their love and care on them. Keeping children happy and helping them maintain a good state of mind can also help in boosting their immunity to a greater extent.The immunity of children should be boosted naturally. Nowadays, parents are urging the paediatricians to prescribe supplements to boost immunity of kids which is not corrects. Thus, parents must very careful in treating their kids and promoting healthy habits for boosting immunity of kids.
What can parents do to boost immunity of children? What are the causes of poor immunity in children? How to raise healthy children? Discuss here.