Flat feet
Flat feet have acquired importance after the army rejected people with flatfeet due to a wrong idea that they will have difficulty running. Most children have flat feet due to baby fat till about age of 2 yrs. Then the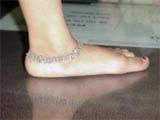 foot arch develops. Even if it does not develop it is not a very big thing. If you see the parents, one of them may have unnoticed flat feet, which has never given the person trouble for his or her whole life. Conventionally, children with flat feet are advised special shoes to improve the feet. This does help the parents to feel satisfied that they have done their best for the child and hence it is necessary. But there is no assurance that the arch will develop if you do these exercises or if you wear these shoes for 2, 3, 4, years. Unless the flat feet are severe, it will not prevent the child from playing any games or doing any physical activity in the future. .

Bowing of the legs

Most children have bowing of the legs till the age of 4 years and this condition corrects itself. Hence, there is no need to panic. This is normal in 50 % of the children till the age of 4. Only when it does not correct itself, you need to consult an orthopedic surgeon. They may need surgery in extreme cases. When bowing is on both sides, it is most likely to correct itself by 5 years of age. If it is only on one side, as in the next picture, then it is likely to be more resistant to correcting itself and you may need to take the opinion of an orthopedic surgeon. (Fig. 3 Unilateral Bowing).

Clubfeet
Children at the time of birth may have defective feet. They are turned inward as shown in Figure 2 below. This condition is known as clubfeet. If detected at birth this needs examination by an orthopedic surgeon. It is nothing much to worry about and most of the mild deformities can be corrected with a few sessions of plaster treatment. If the deformity is severe, a baby may need surgery at the age of about 6, 8 or 9 months
depending on the individual. As the baby grows, some mothers observe abnormal gait in the child when he begins to walk, or that the child falls down frequently, or that the child may not walk at the age when other children started walking. Children start getting their balance as the brain grows, and at about 8 months to 1 yr. most children start walking. Delay of one or 3 months is not a cause to worry. He or she may have a lazy aristocrat habit of starting their day late and that is not a crime. This is how nature works and if it is delayed it does not mean that the child is slow or is retarded. All these are normal variations. No medicines can help to make a child walk faster. Leave it to nature. If the child is not walking at about 15 or 16 months, you need to take him to a doctor.