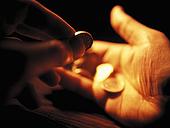 How to cut costs when on a holiday
Holidays abroad can be pretty heavy on an Indian's pocket, especially because our currency is still fairly weak. As a result, wherever we go, things seem to be so expensive - and suddenly hamburgers cost as much as a meal at a good restaurant (if not a five-star) in India does. Here are some tips on how you can save costs when on a holiday.

Planning

If money is not an issue, or if you are not going anyplace expensive, you don't really need to do a lot of planning and can do whatever you feel like at the moment. However, if you are planning a visit to an expensive country, you cannot be as spontaneous, and it helps tremendously if you have planned everything out well in advance, and done your research.

First of all, last minute deals can sometimes work out well, but most often you end up paying more. So, ensure you book your hotel rooms well in advance. If, for some reason, you are going to be showing up late at your hotel, make it a point to inform them and let them know, or else they may charge you for the night anyway, even though you may reach the next morning, or they may give your room away to someone else - which can be pretty disastrous, as Smita and Raj found out. They reached the hotel late, only to find out that the room had been allocated to someone else. Also, although it was low season, there were a few conferences in town, and so all hotel rooms were booked! They finally found a room in a hotel really far away, and ended up paying almost double the price! But what could they do? They needed to sleep somewhere, after all.

So, book all hotels well in advance, and inform them of any changes or delays in your plans.
Food
Carry food along with you from your home country, if possible. It may seem too cheap to do so, but you will be grateful that you carried those theplas when you decide to dig into them at night. Remember, these are not meant to substitute your meals and serve as lunch or dinner, but they are simple snacks - so you have something to munch on during the day and don't have to spend a couple of hundred rupees on a packet of chips.
When selecting a hotel, find out if breakfast is included. If it is, then make sure you wake up well in time, so you don't miss the scrumptious breakfast offered by the hotel. Normally the buffet spreads are very large and generous, and you can eat enough to sustain you for quite a few hours. You could then just grab a quick burger or hot dog from a street corner.
Every once in a few days you could eat at a fine restaurant, but if you are just looking for some ambience, sit on a nice outdoor cafe in the early evenings, and drink a cup of coffee and eat something light, like a muffin. In this manner you can have fun sitting outdoors in the cafes, without spending a huge amount of money on your meal. Instead, save your money for shopping and sightseeing.
The best thing to spend your money on, is sightseeing. Visit a few museums, walk around the towns, take one conducted tour of the city, if required, take a trip to one of the city's highest spots from where you have a bird's eye view of the town, sample some authentic cuisine, and you should be pretty much done. Also, try and take public transport at least once, just to get more of a feel of the place, and walk around as much as you can, with a map in your hand.