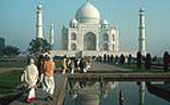 Undoubtedly, India is a beautiful country, blessed with great natural and cultural beauty. Mountains, forests, deserts, national parks, coastal towns, monuments, heritage sites - name it: there is no dearth of places for sightseeing. The diversity of languages and ethnic cultures, historical landmarks and arts dating back to ancient times all make it an interesting potpourri to experience.

Something for Everyone

India has a high concentration of beaches, hill stations, wildlife sanctuaries, pilgrimage places, temples, forts and palaces - to choose from. It is also very well connected by road and air. Mega-scale village fairs, dance and religious festivals geared to attract tourists are on the year round. All this and much more make India a must-see travel destination. The tourism industry today, is equally keen on promoting domestic travel as it is in drawing international tourists. As such there are packages and packages tailored to suit different pockets and itineraries.

Important to Pre-Plan

In India, getting train reservations or even resort bookings at the last minute is virtually impossible, especially during the peak season. So you need to plan your travel itinerary to the last detail before hand. If you are going through travel agents and tour operators then you need to discuss the packages threadbare to cross check that all features suit you. Enquire about medical facilities before hand, especially in places like water resorts or other amusement parks. Some of them may be ill-equipped and you wouldn't want to be sorry.

Choice of Destinations

Though there are wide options to choose from, you may have to limit them to accommodate your child. Adventure holidays are out. Destinations for river rafting or skiing, mountaineering and trekking or even hard-core wildlife trails, needless to say, are a no-no. Pilgrimage places through punishing terrains and weather conditions would be out too. Visiting monuments and museums with your toddlers or even five year olds would be asking for too much. Hill-stations, national parks, beaches and small towns are the best bet where little ones are concerned.

Wildlife

Nature enthralls children because it is so alive with possibilities; it is a basic and wholesome sensory experience, unlike the intellectual one of seeing monuments and museums. But you would do well to keep out the adventurous bit. For the wildlife enthusiasts, there are the day-long elephant safaris from one forest to another in Karnataka, Kerala, Tamil Nadu and up North at Corbett and Ranthambore; avoid this at all costs. Take a jeep safari or shorter elephant-back rides. It is thrilling for the child to smell the green air, see insects buzzing, birds flying, water brooks gurgling and animals in their natural habitats, which they have seen or read only in books thus far. Children will make the most of it and allow you to make the most of.

Beaches

Beaches can be another interesting holiday-place. Kids can splash in water and play in the sand to their heart's content. If you have a beach shack or a resort close to water, so much the better. This will be more of a lolling around holiday, than really a sight-seeing tour. You can just stroll into the nearby villages, follow the beaten path and take detours into fields and farms with the permission of the locals. Goa, backwaters of Kerala, Mangalore in Karnataka or Maharashtra with its rich coastal belt of Konkan are fascinating tourist locales.

Hill-stations

Hill-stations have a certain charm. They are entirely different from cities and modern towns, anyway. Shimla and Mussourie in North, Coorg and Ooty down South and Darjeeling are excellent places to visit. Obviously, you would like to go there in summers; it is not advisable to go there in winters. With places like this, there is no need to go destination hopping. Just stick to the resort or motel you are staying at and take off to discover the neighbourhood. That is a better way of "travelling", rather than making it a tick-the-pick sight-seeing tour. Just stepping out and going for a walk, taking in the sights and sounds of a new region with its unfamiliar rhythms will enthuse children.

Added Attractions

Does that mean other destinations are out because they are not children-friendly? Not at all! There are always added attractions around almost all touristy places. There will invariably be a children's park or joy-rides near many places of interest. In most hill-stations, pony rides are organized for children for a small fee; at places your child can even pose sitting on a yak! Many places have amusement parks, computer and video game parlours and zoos, which can provide relief to children. An inveterate traveller will not be amused with such adulteration of travel experience, but it makes for easier travel for parents of school-going children.

Dos and Don'ts

There are some things you may do well to remember, when travelling in India. These are:
Don't let the child eat raw vegetables or fruits without washing.


Avoid meat at all costs, unless in a top-grade restaurant.


Avoid fresh fruit juices or sugar cane juice. Go for the branded tetra pack juices.


Avoid drinking water that is not bottled, and then too double-check its quality.


Avoid crowded places like fairs or festivals. They are just haphazard congregations of the village folks and are not organized to cater to tourists. There is always the danger of your child getting lost.


Avoid visiting museums. That is a surefire way to displease your child. If you must, take turns. Also, museums do not encourage bawling babies and babbling kids.


Beware of monkey menace at temples and pilgrim places. In fact,

in India

, the langurs have become an indispensable feature at places of interests. The situation has come to such a pass precisely because of bad civic behaviour and indiscriminate littering by tourists.