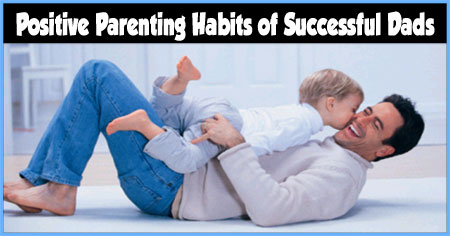 Being a provider is not the only role for dads. Dads too need to follow healthy and positive parenting habits. Here are few positive parenting habits followed by happier and successful dads.

Fatherhood is a huge responsibility and an even bigger privilege for any man. Being a dad catalyses basic changes in a man and makes him a much better and a more responsible person. If you are a father and are reading this then you must have acutely felt the great change that your kids have brought into your life. Here are 10 ways in which you can better your performance as a
dad
.
Respecting the Mother of Your Kids
The best thing you could do as a father is to keep your marriage strong and healthy. Devote some time every week to keep this relationship strong and alive. Even if you are not married or are now separated it is still important to let your kids know that you respect and support their mother.
Spending Time with Children
Most dads mistakenly believe that their only function is to be a provider. However, for kids the most important thing in the world is the time that their parents give them. As a father being around to play, read and go for walks with your kids is more important than just buying them expensive gifts and video games.
Listening Carefully
Do not let yourself become only a discipline enforcer who communicates just to enforce rules and consequences. Become an empathizer instead who listens to the troubles of children and tries to understand their point of view. A great dad always has the
patience
to listen to what his children are really trying to say before communicating his own opinion.
Enforcing Discipline Lovingly
Most kids inherently need to be disciplined not as a form of punishment but as a form of structure to their lives. As a father you should clearly communicate the consequences of both positive and negative action to your kids. React in a warm way when your kids confirm to positive behaviour and in a calm yet unflinching way when they do not.
Becoming a Role Model
Since you are only human
becoming a model
of virtue for your kids is easier said than done. However, you have to try becoming someone who sets an example of desirable qualities which your kids would emulate in the future. Important lessons like humility, gratitude and responsibility are best taught by a dad.
Teaching Life Lessons
Teaching kids
important lessons in life
is best done by a father. Teach your kids things not taught in school books like learning to differentiate between right and wrong, encouraging best behaviour, acting with courage in the face of adversity and making correct choices. These are lessons that will help your kids become better and happier human beings.
Eating Your Meals Together
Eating food together at meal times is a great way to cement the family bond. Ensure that you have at least two meals together even on a very busy day. Children should get the opportunity to feel that meal times are
family times
and are best enjoyed together. The meals together will also give you the chance to stay updated with the lives of your children.
Playing Together
Play football with your son. Accompany your daughter to her dance recitals. The time you spend together as a team enjoying physical activity will teach your kids how important being fit and active is. In a world where fitness is increasingly becoming a challenge it is more and more important for parents to teach the virtues of physical activity to their kids from an early age.
Demonstrating Affection
Do not harbour the misconception that hugs and kisses are a woman's department. Your kids need to be held, hugged and patted by you in order to be reassured of your commitment and affection. Show your love every day by demonstrating affection in visible ways.
Try and follow the above ways and you are not less than a super dad.

Which habits are followed by happier and successful dads? What are the ways to become a better dad? What is role of fathers in upbringing of children? Discuss here.