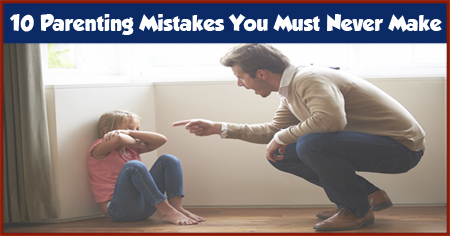 Most of the parents are unaware of the common mistakes that they make while raising children. It is important for them to be aware of such mistakes to improve their parenting skill. Here are 10 parenting mistakes which parents should avoid making.

After a child is born, it gives birth to new duties and responsibilities for their parents along with them. They are a blank slate at that time and it is the responsibility of us, the parents to ensure that they head towards the right path of life. Among many of the mistakes we make as parents, here are few of them listed.
1. Hiding Mistakes
The first and most common
mistake
done by us is that we treat them to be perfect. But we fail to understand that they are human beings as well and cannot avoid mistakes until and unless they are being corrected by us. Hiding mistakes of children in front of others will teach them to take mistakes lightly. Therefore, it is necessary to correct them and teach them the difference between right and wrong and encourage them to learn from their mistakes.
2. Setting a Poor Example
We are always saying our children what to do and what not do, but often we fail to do that by ourselves. To
make your child listen to you
, behave as an example for them to follow as they learn what they see more than what they are being taught.
3. Protecting Them Every Time
When we send our children to school, we often face the complaints against them either from their teachers or from the other parents. In this situation most of the time what we do is argue against them thinking our children to be innocent. In this way, we often give them the opportunity to do more mistakes than they are ought to.
4. Indulging them Unnecessarily
When we go out shopping with our children, it is a common habit of them to cry for the things they want from the stores. What we usually do is go and buy them regardless of any reason. We should not indulge them unnecessarily to make them realize the value of things.
5. Bribing Them
When they do not listen to us, or we want to get any small work done by them, we tend to bribe them with chocolates or toys of their choice. This is a very wrong measure that we take and it may lead to a complete opposite effect than we want it to be.
6. Making Them the Child we Want
As parents, we want our children to grow up in a way we want and make them pursue our unfulfilled dreams. In this way, we put unnecessary pressure on them and do not give them the scope of experimenting.
7. Burdening Them With our Opinions
Most of the time, the children are forced to pursue the dreams not of their own, but of their parents. We often see that they want to become something else in future but end up studying what their parents force them to.
8. Worrying Unnecessarily
When our child is at the stage of adolescence, they show a quick growth mentally as well as physically. That is the time when we should let them open up their wings a little and see the world from their eyes. The mistake that we do is we become
overprotective
and end up worrying much more than it is necessary.
9. Putting Pressure to Do Well in Academics
After our children leave the play school, they step into a world of competition. But we often end up pressurizing them in studies much more than what is needed, in this way they may fail to learn the basics and face a bigger problem in future.
10. Scolding them Unnecessarily
As it is extremely important to scold your children to correct their mistakes, in the same way it is equally important to not scold them unnecessarily. In this way, they can develop a
fear
towards the parents which can make them suffer a mental setback as they grow up.
Bringing up children is not just a phase of life but an entire process which lasts lifetime. But while we are in the process of making our children be the best, we mistakenly do something that is not beneficial for them. So it is advisable to keep these few points in mind for a better scope of upbringing.
Which common parenting mistakes do most of the parents make? How can parents avoid making parenting mistakes? Which parenting mistakes can hamper the development of children? Discuss here.