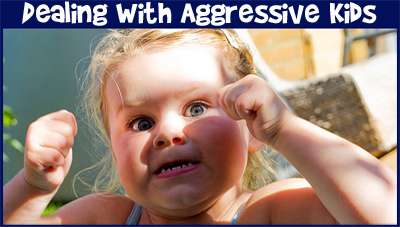 Read on to know the causes of aggressive behaviour in kids and find tips for dealing with aggressive kids.
Children are exposed to different types of violence in their lives. However, one of the most difficult things that parents and caregivers face when working with children of any age is to help them act out in ways that do not harm them or others and do all this calmly, lovingly and safely.
Why Children get Aggressive?
Many children show
aggressive behaviour
as early as in preschool age. You can see them grabbing toys from their classmates, hitting or kicking them and even screaming. Often the cause is simply fear, but one of the common triggers is frustration also. After all, your child is trying to learn so many skills that he might get frustrated and end up hitting his classmate. On the other hand if he feels neglected and resentful, he might retaliate. Other reasons can be that your child is simply tired and hungry. Negative attention seeking can also be a cause behind aggressive behaviour of your child.
What are the Consequences of Aggression in Children?
Children who lose control often are likely to feel unsafe and on the other hand if they are not stopped, they can even harm themselves physically. The situation can harm other children also unless the child is taken care of by an adult in a calm and effective manner.
Ways to Deal with Aggressive Kids
Have a quick look at the ways to deal with aggressive kids.
Pay attention to triggers
Be careful with the way you react
Give proper attention and express your love and care often
Always keep a check on the TV programs your child is watching and the games he is playing
Keep a check on the influence of friends on your child
Discuss with him appropriate and inappropriate behaviour
Encourage your child to share and discuss problems with you
Do not forget to praise good behaviour
Control your own temper when your child is behaving aggressively
Help your child find ways to deal with anger
When You Are the Target of Aggressive Behaviour
If your child is very young and hits you so that you play with him, you should calmly and firmly tell him, 'No hitting' by making him listen to you. So, no matter what age your child is, you should never encourage any such behaviour even if it is done with a playful mood. If your child needs attention even when you are busy, give him few minutes and explain your problem with him. He will understand.
How to Discipline your Aggressive Kid
When it comes to
discipline
, most parents think that
yelling
at the child or
spanking
him is the best way to deal with aggressive behaviour. Remember, you are the role model for your child. So, always model non-aggressive behaviour. Check the pitch of your voice when talking to your child or spouse especially when you are angry or disturbed. In this way you will teach your child to deal with issues in more positive ways.
When dealing with aggressive children you should always keep in mind that children need to know that behaviour is permitted and what is not. So, make sure you set firm and consistent limits. Remind him immediately when he expresses unacceptable behaviour. All children need attention and affection. Make sure you give your child as much as possible.
What are the causes of aggressive behaviour in kids? How to deal with aggressive behaviour in kids? Is it possible to discipline aggressive kids? Discuss here.