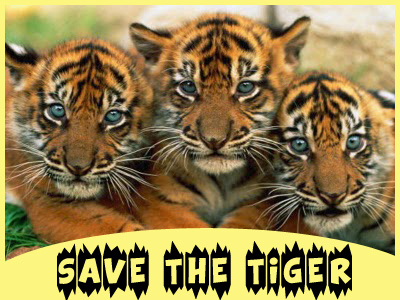 There are only 1411 tigers left in India, constantly living in danger and on the brink of extinction. Find out why you should teach your kids to worry about the threat to tigers and how the death of tigers affects the environment. Find out what children can do to "Save the Tiger" here.
The tiger ruled supreme all throughout Asia in the 1900s. From the grasslands of Central India and the taiga of Siberia, to the bamboo forests of China; tigers owned the forests, fearlessly preying on the Herbivores and keeping people from tearing down the forests to make way for industrial processes.
Today, from an astonishing 100,000 in 1900s, there are only an approximated 1411 tigers left in the jungles of India, constantly living in danger and on the brink of extinction.

Why Should We Worry if the Tiger is Dying Out?
Tigers are responsible for the well-being of the forests. Being on the top of the food chain, the tiger preys on herbivorous animals like the deer and boar, thereby keeping their population in check. Without predators like the tiger, herbivorous animals would destroy the fragile jungles. Fear of tigers and other predators also prevents poor people from entering the jungle and cutting down trees for cultivation or industrial purposes. Extinction of tigers would mean that jungles are at risk of destruction from poor people trying to make a living from farming, logging and poaching. Therefore, presence of the tiger means stability in forests.

Why Do We Need Forests?
Uneducated and selfish ministers in power refuse to protect tigers as they want the jungles to be demolished to make way for industrial development such as cement manufacturing and aluminium mining. These industrial processes will turn the forests into wastelands, leading to dumping of poisonous garbage and toxins into the land that is responsible for protecting our fragile eco-system.
Death of tigers will destroy forests which will deplete our water supply. Jungles absorb rainwater during monsoon, and transpire that moisture into the atmosphere which precipitates to form rain in time for the monsoon season again. Rainwater forges underground water bodies which rise to the surface over time and distance to become streams and rivers which flow even when the monsoon season is over, thereby providing drinking water to a number of villages and towns. 300 such streams and rivers emerge from just 41 tiger reserves in India!
If tigers become extinct, jungles will definitely die. That would lead to floods in the monsoon as there will be forests left to absorb the rain, which in turn will cause droughts once the rain has stopped. All because some people believe that making money today is more important than saving nature for tomorrow.

Threat to Tigers
Destruction of Natural Habitat
The tiger's natural habitat is being destroyed all over India for timber, agriculture or manufacturing purposes. Depletion of forests leads to the number of animals that the tiger can prey on also dwindling. Tigers then enter villages and attack farm animals and villagers in search of food which causes villagers to kill the tigers to protect themselves and their livestock.
Inbreeding
Owing to depletion of forest lands, streaks of tigers get disconnected from each other by human territory which means that the range of tigers that other tigers can mate with reduces drastically. Inbreeding with a small range of tigers weakens the gene pool, causing birth defects and mutations, which would eventually lead to extinction.
Poaching
While hunting tigers merely for sport has become almost non-existent, there are a lot of poachers who kill tigers to make money by selling tiger skins, bones and claws. Some honest forest guards and conservationists try to protect the tiger reserves, but in vain. It is believed that poachers are killing one tiger every day!

What can kids do to Save the Tiger!
Empower your child to believe that even ONE small person can make a big difference in the fight to save tigers from extinction. There are a multitude of things that kids can do to show their support. To begin with, you could enroll them in Kids for Tigers or any other Save the Tiger organisation. Here are some more suggestions for what kids can do:

Organise a Rally
Encourage your child to spread the "Save the Tiger" message by organising or participating in a rally. All he needs to do is invite a few of his and your friends who share the same interest and show their support with posters and pamphlets in support of the tiger in some public place.

Start a Petition
If tigers dwell in nearby forest, encourage and help your child to start a signature campaign to provide protection and declare the area as a tiger reserve. Create awareness about the area, the plight of the tigers and their importance in our eco-system. Get as many people as you can to sign the petition, and enlist the aid of a tiger conservation organisation to ensure that the local government hears your message loud and clear.

Establish or Join a Nature Club or NGO
Encourage your child to organise and invite family and friends, teachers and neighbours for activities like nature walks and bird-watching to make them appreciate and respect nature and the environment. You can also help him access images from a tiger conservation group and organise an audio-visual in his school to spread the "Save the Tiger" message.

Write to the Government and Newspapers
Help your child draft a letter to either the Prime Minister or the Chief Minister. Ask them to introduce measures and step up their efforts to "Save the Tiger." In case you observe or know off any activity that will adversely affect the environment, report it to local newspapers to ensure that the wrong-doers do not get away with it.

Collect Money to fund Tiger Conservation Organisations
Encourage your child to think of innovative ways to collect money for tiger conservation. He could sell home-made cards, cakes or cookies, etc. during a fair or a sports day, etc. Help your child come up with various methods to collect money from your friends and family and donate it to a tiger conservation organisation.

Take Care of Mother Nature
Reduce, Reuse, and Recycle. Conserve water while brushing and showering; turn off the light when you leave a room; switch off the computer monitor if you are taking a break of more than ten minutes; use recycled paper; keep your air conditioner at 24 degrees. Choose cloth or paper bags over plastic bags. Save fuel - Walk, cycle, take public transport or start a carpool! All these small changes in your life will help you and your kids save Mother Nature and do your bit towards saving the Earth's resources and by extension help "Save the Tiger."

Do you know why you should worry if tigers are on the brink of extinction? How can you teach your child to be aware of and take care of Mother Nature? What can children do to Save the Tiger? Discuss here.