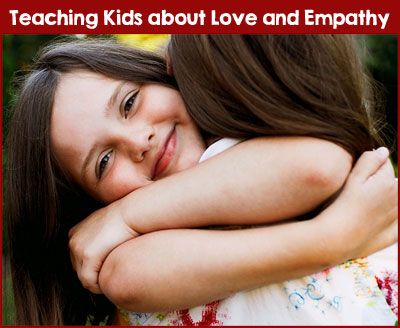 Teaching children about love and empathy is important to raise them as good human beings. Here is how you can teach your kids about love and empathy and enhance their emotional intelligence.
Love and empathy are prewired to humans from their birth to some extent. It is when you try to understand someone's feelings from his or her eyes, and then wish to give him or her helping hand. Young babies are found to cry when other babies cry, that is a sign of natural empathy, but they need to learn to be loving and empathetic while they grow up to be a better human being. Every parent wants his or her child to be kind, generous, and empathetic. If you can cultivate these feelings in your child correctly, then your child will have a long way of having better relationships with their surroundings. There are many ways to inculcate these feelings in your child.
Reach out to Your Child's Emotional Needs
The basis of love and empathy is formed when you respond nicely to your baby's needs; every time you associate good feelings with your baby, new neural connections are made. You shall address your child's needs, shower your love and empathy to him or her, and then only he or she will learn to show love and empathy to others. If your child do not feel good about himself or herself, then he or she will not feel good about others also. It is your responsibility to take the process further, talk out, and discuss what your child feels about himself or herself, you, and others.
Boost Your Child's Feeling Vocabulary
Help your child recognise emotions. React to his or her expressions and he or she will learn from your reaction that his o her response is valued. You shall teach both positive and negative emotions. Start with adjectives like happy, sad, mad, angry, and surprised. Expand your child's vocabulary to exhausted, depressed, bored, hurt, proud, etc. Play a game by drawing basic emoticons, like happiness, anger, surprise, sadness, etc., and talk to your child when he or she feels such emotions and then label the emoticons accordingly. These activities help in enhancing
emotional intelligence
.
Discuss About How Others Feel
You shall point out to your child what someone else feels. Teach them to walk a mile in someone else's shoes and feel what they feel and then react to the situation accordingly. When your child starts going to school, he or she will
have friends
and will understand the causes and cures of sad feelings can be complex, sitting with other friends might hurt his or her close friend's feelings, happiness when a class is dismissed, etc. Be sure of talking it out what how your child felt in the school and hear about his or her friends as he or she will start describing his or her friend's feelings also. Tell your child about the
kindness
of a third person if that person was kind to you or the love the other person showed to you or your child. Better communication helps your child learn more.
Be a Role Model
Be sure to follow what you teach your child. You yourself shall be kind and loving if you expect your child to be the same as he or she learns from you. Do not scream or use abusive language in front of your child if anything goes wrong; do not overreact for small things; show love and empathy to the poor,
animals
, and also elders. If your child notices you making someone happy, even he or she will try to be the same. Engage your kid by asking his or her thoughts about your behaviour so that he or she recognises your emotions.
Do Not Forget to Praise Your Child
If you see your child offering a helping hand to you or others, praise him or her so that he or she feels good about it and recognises it as a valuable act.
Praise your child
when he or she shows concern for other child, poor people, or even animal. Talk out with your child, listen to your child, acknowledge his or her feelings, and do not force him or her to achieve perfect grades or athletic excellence, do not compare with other children; instead, celebrate for who your child is and guide him or her toward better behaviour.Shower unconditional love on your child so that he or she learns to do the same. Raising children in loving environment will definitely help them to learn why it is not good to hurt other'sfeelings. Therefore, make sure that you not only provide a loving and caring environment at home but also show love and empathy through your actions when you are communicating with other people.
How to teach kids about the value of feelings? How to enhance the emotional intelligence of kids? How to teach kids about selflessness? Discuss here.