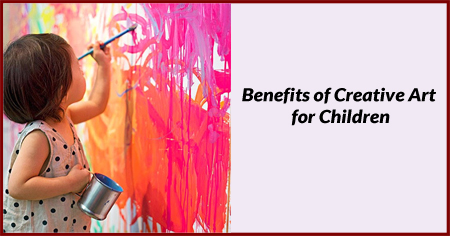 Do you encourage your children to carry out activities that involve creative art? Read on and find out why it is important to encourage children to do activities related to creative art.

Creative art plays a vital in the overall development of the children. In a study it has found that brain is mainly divided into two parts i.e. left hemisphere and right hemisphere. Left hemisphere is a part which is used for logical and analytical thinking; in short we can say this is utilized for academics like math, science and so on. Right hemisphere is a part which is used emotions, intuitions,
creativity
and so on. In most of the schools development of this part is neglected, and for overall, rapid and healthy development it is necessary for both the parts to work together simultaneously.
To strengthen the connection between both the hemisphere of the brains children should also be encouraged or motivated to do an activity which involves creativity. This is the main benefit of creative art and other benefits gained due to creative arts are as follows:
Thinking Wider
Involving in high quality of creative art and some cultural experiences help your kids to develop different skills and abilities which would be helpful for them throughout their life. Creative art also teaches kids to think with 360 degree.
Developing Skills
Learning creative art from early ages will help your kids to develop the cognitive skills like physical, spiritual, emotional, moral and linguistic development. With these it also makes them prominent in observation, analyzing and interpreting the things in a systematic manner.
Expressing and Communicating
Your children also learn to express their feelings very well with or without words. If you involve your children in creative art activities from early age and also you always participate with them it may strengthen the bonds and faith between you and your child. This is very important for a healthy relation and such activities engage family in the learning process of kids which further leads to sharing of experiences and increase of communication between all the family members.
Art is a Process
Creative art is a process which involves various steps involved in it, like discovering, researching, experimenting and exploring. These processes have a lot of importance from a perspective of children because it is something they created by themselves and further it is your responsibility to give importance to their feelings. This boosts their self esteem, self confidence and a "can do" attitude.
Language Skills
You should always talk about their creativity with them, you should ask them question about it pretending as if this is very new for you. Then they would feel the importance of their creation as well as they would be able to express themselves in words.
Different Activities Serve Different Benefits
There are different creative art
activities
which serve different benefits. Let us take a look at different creative activities for different ages.
Clay Modelling
Children of
5 year age
group when given clay they try to prepare different types of shape, size and the things they see around them. This open-up their way of thinking, provide knowledge of different shapes and sizes.
Beads Bracelet
It is a type of designing simple jewellery designing. For doing this activity child has to insert the beads in a thread one by one. This increases their concentration and teaches them to focus with a stable mind. If you are using multicolour beads for making bracelet then they also get knowledge about how different colours can be used in a series of order. This will give them the knowledge of colour combination.
Colouring Using Different Shapes
Your child can colour any object or fabric with the help of this technique. By cutting ladies finger dipping them in the colour and pressing it on the object which they wish to colour. You can repeat this process with various objects like hands, thumb impression, dry leaf, and potato and so on. This will enhance the creativity level and also provide them the knowledge of how they can obtain various types of shapes by using various types of objects.
Creative art help to
stimulate the brain
of children. Such kind of stimulation is very important for their overall growth and development. So, along with studies let your children experiment with the creative streak in them. You will be surprised to see the way in which their imagination will flow.
Why is it important to involve children in creative art? What kind of creative art activities can children perform? How to involve children in creative art? Discuss here.