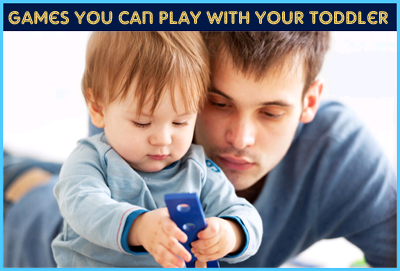 When it is not possible to take children outside, one of the biggest problems that most moms face is to keep their toddlers involved. Read on to learn about some of the fun games that you can play with your toddler and keep him busy inside as well.
There is no doubt that toddlers learn a lot during their first three years and most of the things they learn are during the play time. This is the reason why there is lot of stress on the point that parents should
spend quality time
with their children and play with them to help them enjoy life and learn as much as possible.In addition to the importance of
playing with toddler
being educational, sometimes it becomes very important to hold your child indoors. This happens during hot summer days and during rainy season also.
Fun Games You Can Play With Your Toddler
Who's Hiding There?

Remember how your child enjoyed peek-a-boo when he was a baby? You will find that he enjoys playing simple games like hide-and-seek especially when he will find that you are playing with him. You can have fun with this game during bath time or even in the morning when your child wakes up.

Push and Pull

This game will be useful when your toddler is trying to get up and walk on himself. Help him practice this by letting him try to push you so that he gets pulled up. You can help him take the steps and build his confidence in return.

Talk to Your Toddler

This game will be useful when your toddler is trying to try out new words. You can play repeating certain words or sing nursery rhymes aloud so that he catches them as early as possible.

Indoor Basketball

This is a real fun game and will boost eye-hand coordination of your child. You can make a bin or bucket and either have a ball to aim in or make balls from rolling up newspapers.

Balloon Hop

All you need to do is blowing some balloons and make your child bounce, throw and hit the balloon across the room. Make sure you have cleared harmful objects from the floor.

Treasure Hunt

You simply need to distract your child and hide a 'treasure' for him. Your child will simply love to find that out.

Colour Collage

This can turn out as a masterpiece for you when your child will grow up. Give him a piece of chart paper that he can manage and allow him to colour using anything he wants – his hand, finger or brush. This is a great activity to boost imagination but make sure that you toddler does not put colours in his mouth.

Table Tent

The simple activity of making a tent out of table will keep your kids of all ages busy for hours. Create a camp site inside your house, pretend to sleep under the stars, sing around a virtual camp fire and simply hide out inside the tent.

Ring the Phone

Toddlers love talking on the phone. Make a phone from household stuff like two small tins, matchboxes and more. Talk to your toddler pretending to be talking from some far off place.

Simon Says

Toddlers and young children love to play action games. Simon says is a game in which you can teach different activities to your toddler and encourage him on doing it correctly.
So, if you have some ideas for games and activities that you can enjoy with your small child, you will never feel stuck with a bored and irritated toddler inside house and keep the busiest toddler happy inside.
What are the benefits of playing with a toddler? How to keep toddlers busy and involved indoors? Which games can help in development of motor skills in toddlers? Discuss here.