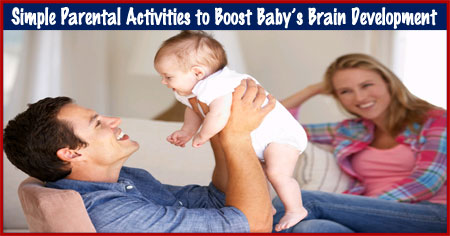 Parental interaction and intervention during early days of childhood can influence the child's brain growth and development. Read on to learn about the activities and techniques that can help your child have healthy and smart brain forever.
Brain is an enigmatic organ playing a vital role in your child's success. Fortunately, your child's brain works on some core functions that are important for
brain development
. You will need to include and combine the core functions to help develop your child's brain.
Simple Parental Interactions for Baby's Brain Development
Here are simple but crucial parental interactions that aid in baby's brain development.
1. Shower Love and Care
A new born needs a full tummy, dry diaper and a soothing environment. Make sure you provide your new born everything right from the day she is born. Studies have shown that infants who are carried more cry less. This helps them devote more time and energy in growing and learning.
2. Talk a Lot to Your Baby
Most of you must be aware that
talking to your infant
helps in her brain development and even shaping her personality as well. But, it is very important how you talk to your infant because this has profound effect on your child's brain development. Make sure you make an eye contact with your child and address her by name while talking to her. You can ask questions and talk about the thing you are doing and above all, it is good to
read to your child
.
3. Always Smile at Your baby
Whenever you come close to your child, smile at her. In fact, any facial expression triggers the similar emotions in babies. Experts are of the opinion that making exaggerated happy faces helps infants understand emotional communications and also helps them easily imitate.
4. Hold Your Baby
From time immemorial people know that physical contact helps calm babies. When your infant is awake and you hold her, she will cry less and sleep better. Not only this, studies have shown that holding your baby facilitate brain development also.
5. Play With your Baby
Playing games that involves lot of hand movement is good for a child's brain development. It has been observed that even infants learn sequential games observing hand movements of others. For a child, play and learning are the same. Playing with your child will help her develop
problem solving
and decision making skills in life.
6. Always Listening and Responding to Your Baby
It is not only how you talk to your baby, but also how you listen to her that helps apt brain development in her. Always keep in mind that it is relationships that build brighter babies. The
time you spend with your child
and how you spend is most important.
7. Hug and Kiss Your Baby
Hugging and kissing makes a child feel secure and being cared of. By this, you are helping to grow her brain. You are helping her develop social bonding skills and she will grow up to be socially well-adjusted. This also helps your child have a healthy immune system and indirectly you contribute to your child's robust stress response also.All experiences whether they are good or bad, shape the way children think. You will find that everyday you work with your baby and you are helping your child with each positive thing you do with her. All this is to make sure your child grows healthy and strong. The hugs and kisses that you give to your child naturally, are a powerful source of nature that have effects years after in their lives too.When you show love and affection in early years of a child,it results in healthy emotional responses later in their lives. On the other hand, children who are deprived of physical contact in their early childhood years show lower levels of social bonding hormones. Positive touch affects stress reactivity in children and hugging and kissing is good for brain.In short, enjoy every moment of your child because once she grows you can recall those moments and relive them in your memories. Do not worry whether your baby is learning or not because if you and your child are having good time together, only positive results are going to show up and your child is definitely learning something important.
How to boost brain development of babies? Which activities are effective for boosting baby's brain development? What is the role of parents in boosting baby's brain development? Discuss here.