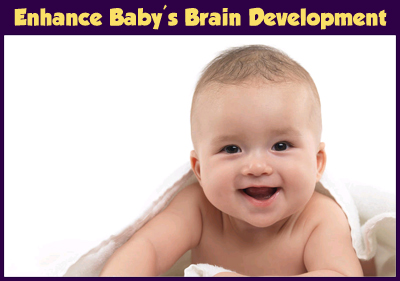 Parents can play an important role in enhancing the brain development of a newborn. Read on to know more about the brain development of a newborn and what parents can do to boost baby's brain development.
When a newborn arrives, there are a number of care-giving tasks that you need to perform. The most daunting one that you find must be to help your child develop optimally. There is no doubt that the development of the brain of a newborn is crucial. While it may seem to you a big responsibility, specialists are of the opinion that you simply need to pay attention and spend time with your little one. Hold him, talk to him and respond to his needs. Remember, proper interaction with parents in the first year helps in the right kind of development of a
child's brain
.
Brain Growth of a Child
When a child is born, he has 100 billion brain cells which increase exponentially as his brain develops. In fact, there is rapid growth and changes seen in an infant during the first few months. Different parts of the brain show development at different rates. For example, when your child is three months old he can look at you and recognize your voice and can also track a moving object.In fact a child's brain is observed as a dynamic activity center because right from the time of birth he starts dealing with sight, sounds, touch and smell.
What a Newborn's Brain Needs?
There is no doubt that for proper and healthy development newborn needs nourishment,
sleep
, warmth and safety. But, the development of the brain of a newborn depends largely on the relationship with her primary caregivers. Therefore it is very important to respond to every
cry of a newborn
with patience and consistency. The kind of interaction he has with the people will decide the category of brain development it shows.Many people are of the opinion that if the child is comforted and held every time he shows the need, he will get spoiled. On the contrary, the newborns that are attended consistently and warmly grow up to adults who find that the world is more trustworthy. There is a strong and secure attachment between the child and the parents.When the attachment is strong, better academic and social skills are found to have developed in the child. In reality, these simple and small acts of love and care have huge impact on the child's later life.
Power of Reading
One of the best and proven ways to interact with your newborn is to read out to him. No matter how young your child is, read out to him extracts from good books. Remember, the idea is just to make him familiar with the language and expressions. In fact,
reading together
is also one of the best ways to strengthen the attachment relationships.When you hold your baby close and read to him with different tones and share touch, smile and laughter with him, this will build trust because the child gets the message that his parents are sharing love and care with him. When the attention is one-on-one, the experience goes simply magical.When you are reading a book, you also point to objects explaining pictures and stories and all these things are getting absorbed by the brain of your child. When words and phrases get repeated time and again, it strengthens language corrections in the brain.
Talk Talk Talk…
Talking to your baby even when he is not capable of understanding what you are saying, helps engage his brain and also helps in its right development. Researchers have shown that
talking
and early language exposure strongly affects the development of a child's brain.In addition to the simple tasks that you would also love to do with your newborn, you can get some brain building toys and other stuff for your child to remain engaged. However, spending as much time with your child as possible is the best way to enhance your newborn's brain development.
Is it possible to boost brain development of a newborn? Which activities can help to enhance brain development of a newborn? How to aid healthy development of newborn's brain? Discuss here.