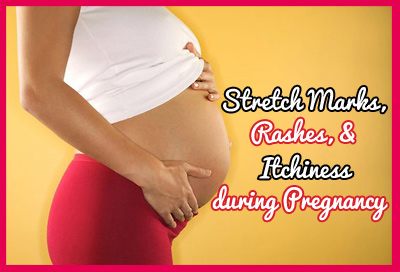 People who claim that pregnancy is a beautiful thing seem to have forgotten about Stretch Marks, Rashes and Itchiness. Read the following article to ensure that your pregnancy is beautiful by proactively caring for your skin to prevent or reduce effects of skin problems that plague most pregnant women.
Congratulations! You are pregnant! While you are busy thinking about how you are nurturing your baby in your womb, you may forget to care for your looks, your body, your diet, your routine, etc. Do not let that happen. You have to now take more care of your body than ever before. If you are not prepared for the changes (many of them unwelcome) that are going to affect your body, you will fall easy prey to the pregnancy blues.
Your nails are going to become brittle, your skin is going to get dry, your memory is going to get fuzzy, you are going to get acidity and heartburn, you are going to pee more, the list goes on and on… Taking preventive care is the only way to ensure that you stay upbeat and excited about your pregnancy.

Stretch Marks
75 to 90% women develop Stretch Marks during pregnancy. Because you body is going through rapid changes in the form of sudden weight gain, you may suddenly find your skin sporting pink, purple or red striated stretch marks on your abdomen, legs, thighs and hips. Stretch marks or Striae Gravidarum form in the middle layer of the skin also called the dermis. Contrary to popular belief, stretch marks do not appear merely because your skin is "stretching". While rapid weight gain is one of the main causes of stretch marks, the primary reason for stretch marks is excessive production of the hormone, cortisone, during pregnancy. Our skin needs collagen, which is a protein, to keep the skin supple. Cortisone reduces the quantity of collagen in your skin causing formation of stretch marks. Stretch marks generally appear on areas where skin is dry such as abdomen, thighs, etc.
You can prevent stretch marks somewhat by making nutritious changes to your diet, following a proper skincare regime and maintaining these routines even after delivering your baby. Moisturising your whole body and not just your hands and face is one of the most effective ways to prevent formation of stretch marks during pregnancy.
However, if you have a family history of stretch marks, you will most certainly get at least a few stretch marks by your third trimester. Depending on the colour of your skin, the stretch marks start off as red, pink or purple thin lines on your abdomen as your stomach expands. Over time, they turn grey and silver until they become light or fade away.
If one takes action early on, it is possible to reduce the formation and appearance of stretch marks during pregnancy. Remedies for stretch marks include use of salves containing glycolic acid or ointments containing retinoids. If, however, you are averse to using medicated creams, you can also try many home remedies for reducing stretch marks such as lemon juice, virgin coconut oil or malai (i.e. milk fat). While none of these remedies will completely remove stretch marks, they will help in reducing their appearance. If you are finding it difficult to cope with stretch marks post delivery, simply consider your stretch marks as victorious battle scars from your pregnancy. Use your thumb and forefinger to lightly stretch your skin before massaging cream or oil. Based on the extent of appearance of stretch marks, your dermatologist will suggest use of medicated creams for treating post delivery stretch marks, or even laser therapy or microdermabrasion.

Rashes during Pregnancy


Pruritic Urticarial Papules and Plaques of Pregnancy (PUPPP)
PUPPP is a common rash that affects 1 in 160 pregnant women in the third trimester of their first pregnancy only. This rash arises on the abdomen and is said to be the result of the skin stretching. This rash can be treated through antihistamines and topical or oral steroids. While this rash is extremely itchy, it does not harm the baby and normally subsides within a few weeks after delivering.


Prurigo of Pregnancy
Prurigo of Pregnancy is an itchy rash affecting 1 in 300 to 1 in 450 pregnant women usually in their second or third trimester. The rash is characterised by bumps along the arms and legs and sometimes on the abdomen as well. The rash will persist until after the delivery and can be treated with the help of antihistamines, topical steroids and moisturisers. This rash causes no harm to the foetus and may persist in future pregnancies as well.
Cholestasis of Pregnancy
Cholestasis of Pregnancy is a severe itching sensation that affects 1 in 1000 pregnant women, usually in the last trimester. While it does not cause a rash, it causes yellowing of skin (i.e. skin jaundice) which typically subsides after delivery. In cholestatis of pregnancy, the flow of bile in the gall bladder is affected due to the presence of high amounts of pregnancy hormones. Treatment includes oral medications to decrease the concentration of bile acids and topical medications containing corticosteroids. Bi-weekly non stress tests involving foetal heart monitoring needs to be carried out as cholestasis of pregnancy can cause foetal distress, premature delivery, or even stillbirth.

How can I get relief from itching during pregnancy?
As your pregnancy continues, your skin will start to feel dry and itchy because of the stretching. Once you have checked with your doctor to ensure that the itching is not a symptom of some serious rash, you can use the following basic measures to soothe your itchiness:
Avoid too many hot tub baths, or hot showers, which will cause your skin to dry and aggravate the itching;




Use mild, moisturizing, unscented soaps, rinse off the lather thoroughly and use a soft towel;




Use refrigerated cocoa butter, shea butter or any other mild unscented moisturiser liberally at least twice a day, ideally just after a bath when your skin is still damp;




Avoid products whose ingredients include alcohol;




Avoid concentrated chlorine water;




If you stay in a dry climate, use a humidifier at home to add moisture to the air;




Wear loose cotton clothes, and avoid going out when the sun is at its fiercest.




Avoid scratching, as it only intensifies the itching and keep your nails short and filed to prevent deep scratches;




Use cold or wet compresses to soothe itchy parts of your skin.
If, however, none of these home remedies work to soothe your itchiness, consult your doctor who will suggest some oral or topical medication depending on the severity of the rash and itchiness.