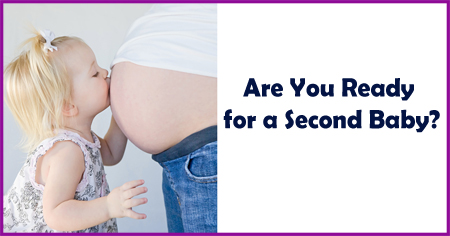 If you are planning a second baby, you need to make proper arrangements for taking care of yourself and your child while you are pregnant. Read on to find tips for preparing yourself for a second pregnancy.



Although, there are many stages in everyone's life, pregnancy is a wonderful and exciting part in a woman's life. Especially when it is the time for second pregnancy, the feeling combines the similar joy of the first one without any unknown fear. Still, the
second pregnancy
is different from the initial one in few aspects.
Times get busy in taking care of the first child and it makes a mother more tired and sleep-deprived. There may be some unexpected symptoms and feelings to experience during second pregnancy when compared to the first. Below are some of the effective tips for preparing yourself for second pregnancy.

1. Prepare Yourself Physically and Mentally

The first step that you need to take while
planning your second pregnancy
is preparing yourself physically as well as mentally. Make sure that there is adequate
age gap
between your first and second pregnancy so that you are physically prepared to well come the little bundle of joy. You also need to prepare yourself as well as your husband for handling your second pregnancy and childbirth. Make sure that you make proper arrangement so that you get right support after your delivery.
2. Pre-Plan the Diet

Foods that disturbed you very much in the first pregnancy can be avoided this time as you will very well know the impacts of this stuff. Try to stick to the healthy foods that helped you to overcome some difficulties. However, there are a few foods which cannot be avoided during pregnancy, though you like it or not. Intake of organic food is a very good idea for second pregnancy as it nourishes a lot. Take prenatal vitamins and proteins prescribed by your doctor. If any complications are experienced in the previous one, consult the doctor and take the essential treatment.
3. Preparing the First Child

A new member joining the family must be informed to the first kid as it is an important part for every kid to know about the arrival of a new sibling. But it is a mom's responsibility to find the right time to talk about this. The suggested time would be soon after you start showing your bump. Explain about the wonderful time that he or she is going to have with the siblings. Discuss on how they can help you after delivery like changing the diapers for the new baby; get ready for school by themselves if mom or dad is busy with other things etc. Provide a comfortable zone for the first child and make her think that the arrival of
second baby
is going to be one more joy for the entire family and not the replacement.
4. Discussion with Partner

Women get more excited when breaking the news about her second pregnancy to their husband. You can plan for a best and creative way to inform your partner. It is always better to involve your partner while making important decisions regarding the second baby. Try to take a small vacation before the second kid arrives. Allot some time to spend together with your partner and the kid. Discuss few things like what kind of special care would be needed for the second baby, who is responsible to take care of the first kid, how to manage the other household works after the second delivery and so on.
5. Check for Financial Situation

Financial status plays a major role while planning for the second baby. Figure out each expense that is mandatory after the delivery and plan whether it is possible to manage financially. Think about the space at home and expenses required for shifting if necessary. If the estimation is high for purchasing new items for babies, make some adjustments and proceed. Instead of spending much on new things, try to make use of the existing items which were used for the first kid like stroller, walker, cradle, and beds. Newborn babies can wear any gender's clothes for one or two years, hence collect the first child's clothes and decide to reuse the same.
Getting a second baby will bring-in more responsibilities for parents and multi-tasking is required for doing household chores. If you are prepared and happy to extend your family you can surely plan for the second baby. Furthermore, every woman must trust themselves to face the physical pain as well.
What things should be kept in mind while planning a second pregnancy? How to prepare a child for the arrival of his or her sibling? What is the right gap between two children? Discuss here.