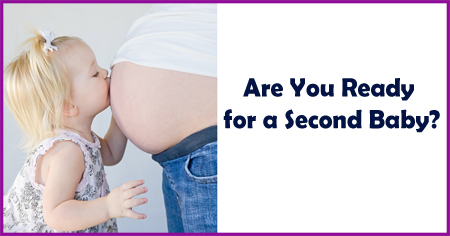 While raising your first child, you will become an experienced parent. But you will also need to consider few things before you plan a second baby. Read on to know if you are ready to have a second baby.

"Should we plan a second baby?" This is a question only you and your partner can answer. Having a second baby needs a great deal of consideration. It can have many reasons – maybe, you want your first child to have a sibling, maybe your relatives keep encouraging you to try for a second time, or you want to relive the moment of holding a newborn.
Emotions aside, you also need to think of yourself, your parents and your first child and how the entry of a new baby will affect your lifestyles, finances, and work. Here are some pros and cons to weigh to help you make your choice.
1. Age and Physical Health

Moms, ask yourself – is your body ready for a
second pregnancy
? Gynaecologists advise moms to wait for at least three years as your body needs time to recover from the first pregnancy and childbirth. The recovery period also helps the body to build up the nutritional resources your second baby will need.
Studies have shown that babies conceived less than six months after the birth of the first child are more likely to be premature or have a low birth weight. Therefore, the mother must also have the energy to care for the two children. Age is also an important, as fertility levels decrease in a woman after the age of 30 to 32 years. However, if you are younger than 30 without any fertility issues, you can
space between your children
.
2. Financial Situation

You already have a child so you are prepared for what is coming with your second baby. Parents have the necessary equipment and are now more prudent with money matters. However, childcare costs can be both expensive and extensive. Ensure you have room in your monthly budget before you plan a
second baby
. If you are a working mother, would you hire a nanny or would you quit your job? Day-care can also cost quite a bit, which is why learning to live on a reduced income before conceiving can help.
3. Time Management

Time management is a problem for working mothers who work full-time or part-time with two children to look after. If you have a helping hand, ensure their convenience before planning. A new baby will mean maternity leave and the pressure of caring for two children. If your job does not allow that, make necessary alterations that suit your needs beforehand.
4. Change in Lifestyle

Pregnancy comes with its own lifestyle changes – morning sickness, sleepless nights, no drinking, no smoking, no partying, giving up on some of your favourite foods, restrictions on dressing and specific activities. After that comes labour pain, changing diapers and the constant running around. Ask yourself before planning a second baby – are you prepared to make these changes in your lifestyle once again?
5. The First Child

Consider the age of your first child before you bring in another child. If she is too young, a second child will take up most of your attention, which will make her feel neglected. Preferably, have an
age-gap
of three to five years between the children.
The first child should be toilet-trained and independent enough while you take care of the newborn. However, if your first-born is a special needs child, planning a second baby might not be a good idea.
You also need to prepare your first child for the baby. Take her to prenatal visits or when you go shopping for the new baby. Read to her about having a new sibling and be sure to give her extra attention with cuddles or an extra bedtime story. Dads can help out with taking care of the older child while you focus on the newborn and vice versa.
Everything said and done, talk to your partner and plan ahead if both of you agree. Plan a baby only when it is the right time for you and your partner. Make sure you built a strong support system with the help of your family so that the new baby and the coming responsibilities are happily welcomed at home.
What should be an ideal age-gap between two children? Is it necessary for children to grow with siblings? What should couples keep in mind while planning a second baby? Discuss here.