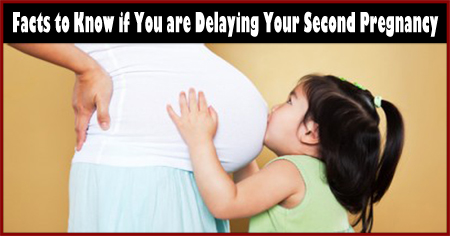 If you are planning to have a second child, delaying your second pregnancy may not be a good choice. Here are some facts which you should know if you are delaying your second pregnancy.
Conceiving for the second time sometimes becomes very hard to decide. Many problems crop in the like financial matters, family matters etc. It is true that conceiving the second time brings the same joy in your face as the first time. But is that so easy to conceive for the second time?
Many women face difficulties to conceive for the second time, especially when the time gap between the conception increases. So if you think that you need someone to play with your first child then hurry up. Do not delay as you may face a lot of complications in conception. In this article some of the facts are discussed that you should know if you are delaying conceiving for the second time.
Fertility Problems
Conceiving for the second time may not be as easier as it was for the first time. Even if you are in your late
twenties
or early thirties this may be an issue. The reason for this is the quality of the eggs in women start deteriorating after the first conception. Symptoms like polyps, cysts and fibroids also start showing after the women have delivered their first child.
Some women may also face fertility problems which are known as secondary infertility. As for the men also the sperm quality and sperm count may also deteriorate. So it is better to conceive for the second time soon after you know that your first one is big enough to play with his siblings. A gap of 2 to 3 years sounds fine if you want a
second baby
.
Obesity

Women generally tend to become more obese after they deliver their first child. This
obesity
comes in the way of further complications in the conception for the second time. So it is advisable that if you are planning to become parents for the second time do not delay much as delaying would mean more complications to crop in. The more
the age gap between your children
the more complications you will have to face regarding your health issues.
Health Issues

Besides obesity there are other health issues that are interlinked with
pregnancy
. Diseases such as diabetes, thyroids both hyper and hypo begin to show their symptoms just after the first pregnancy. So conceiving for the second time becomes difficult than it was the first time. This is also valid for men. Unhealthy practices like drinking and smoking affect both men and women similarly with the risk factors being more in case of women.
Age Matters

Nowadays, women are becoming more career conscious and so starting a family soon after marriage is not possible. Women are conceiving their first child a bit late and so conceiving the second child is automatically delayed. With age the fertility in women starts to decline. More precisely the decline curve becomes steeper after the age of 35 in women.
Money Matters

Money has become a crucial part of our lives though some will say that money is not everything you want. Money can never buy you the happiness as your kids will give you. But before you plan for having a second baby you should primarily consider the money issues.
Conceiving for the second time is not only the sole thing that you need to decide, the main consideration lies whether you will be able to fulfill all his or her necessities, pay for his or her education and see him settling just the way you would want him or her to. Maintaining two children on a single income is rather becoming very difficult unless you have a lucrative job for yourself. So before trying for the second time you should also consider all these facts.
What problems can be faced if pregnancy is delayed? What is an ideal age gap between two children? What are the disadvantages of having larger age gap between two children? Discuss here.