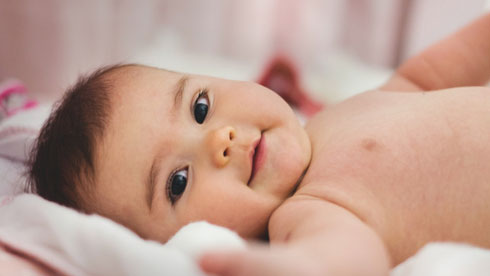 Some babies may develop severe acne in the first few weeks of their birth. Some develop crusty patches on his scalp. Some suffer from heat rash, diaper rash so on. Can these be prevented? Read on to know the answers of such queries.
What is baby acne?
At times babies are born with severe acne. Other babies may develop severe acne in the first few weeks of their birth. Why does this happen? The reason for this is fairly simple. During pregnancy, especially during the last trimester, the mother is undergoing tremendous hormonal changes and is also producing an excessive amount of hormones. These hormones often get passed on to the baby through the placenta. In addition to the hormones, calcium and iron also get passed on to the baby in the last trimester, and a combination of all these factors may result in the baby developing a rash or acne.
Can it be prevented?
Mothers are often distraught to see their newborn's skin so spotted. However, it is important to remember that within a few months, once the hormones have metabolised, your baby's skin will settle down and become smooth, blemish-free and beautiful. There is nothing you can do to prevent the outburst of pimples, and scrubbing your baby's skin again and again with a harsh soap will not help. Use a mild baby soap and don't pay much attention to the acne, even if it appears to worsen after a couple of weeks. Let nature take its course. The acne will disappear after a few months. Be patient.
Cradle Cap
At times your infant may develop crusty patches on his scalp. This is known as cradle cap, and is caused due to overactive sebaceous (oil-producing) glands on the scalp. Wash your child's hair regularly with baby shampoo, and bush his hair with a baby brush. The cradle cap should disappear before long. You could also apply baby oil to your infant's scalp, but don't leave it on for long. Wash off baby oil after around 15 minutes.
Diaper Rash
Diaper rash is another common form of skin irritation. As the name suggests, diaper rash occurs in the diaper area and is mostly due to irritation caused by stool and urine. Another reason for diaper rash could also be that your baby is allergic to either the diaper, or to the detergent used to wash a cloth diaper. If your baby develops a diaper rash, the best treatment would be to keep the area clean and dry. Let your child not wear a diaper at home, and keep his buttocks exposed to the air as much as possible. Power the area frequently. Wash your baby's buttocks with warm water after every bowel movement, and allow the area to air-dry. Avoid wiping the area dry with a cloth, as this may irritate broken skin further. Apply a soothing cream to the area.
Heat Rash
Babies are also especially prone to developing heat rash, as their perspiration glands are not sufficiently developed to help them balance their inner body temperature. As a result, the excessive heat in their bodies causes them to break out in heat rash. To avoid this, make sure your infant is kept in well-ventilated, airy surroundings, and that he is not smothered with clothing that may keep him too warm. Protect your infant from exposure to harmful ultraviolet radiation. This will not only reduce the risk of him developing heat rash, but will also reduce the risk of him develop skin cancer at a later age. So before sending your baby out in the sun, make sure you apply a sunscreen to his skin. Avoid sending him out in the peak afternoon, when the sun is at its strongest.