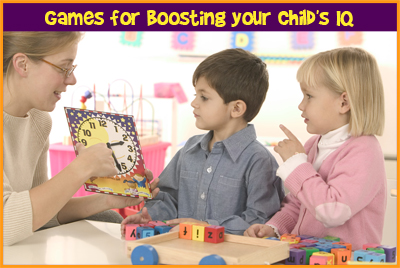 Playing certain games can help kids to have enhanced IQ levels. Here are few classic games which you must encourage your kids to play so that their IQ is boosted.

Games are important to boost creativity in your kids, which also boosts up the IQ in them. Many schools have changed their conventional style and modified their structures with new interactive and
educational games
. Nurturing creativity is important; understanding what the children are good at is important – making them play different games make them smart and intelligent, and also responsible.
Blocks
Blocks allow the children to build and invent without any boundaries or directions. This game is best for the toddlers and is always considered to be the perfect creative learning toys. They do the sorting by color or size and get really excited of what they build by themselves. Blocks lay the foundation for math, science, and spatial skills. Dragging the shapes to complete a figure from big to small, tall to short, everything needs creativity and imagination. It also boosts the motor skills of the kids apart from
boosting the IQ
.
Chess
Chess is known to have beneficial effects on learning and development when it is played from a young age. It develops logical and decision-making skills, builds confidence, helps kids to gain insights into the competitive nature, boosts higher-level thinking skills, boosts skills of visualizing future possibilities, helps to analyze actions and consequences, and makes the kids excel in math and science in future. Chess
boosts brain power
, improves IQ, hones verbal skills, enhances mathematical skills, boosts emotional intelligence and psycho-social skills, improves reading skills and
concentration
, and also enhances critical thinking skills.
Cryptograms
Solving letters, words, and sentences, guessing it again and again, looking for contractions and possessives, looking for prefixes and suffixes, learning to identify common cryptogram words with recognizable patterns – everything help the kids at young age to enhance their IQ. It is a workout for the brain. It boosts the vocabulary skills of your kids. It leads your kids to various possibilities and guessing patterns. It also improves spelling. Your kids keep learning new spellings and new words if they start playing cryptogram at their early age. It boosts
emotional intelligence
along with problem-solving skills.
Scrabble
Playing the famous word-game called Scrabble provides many advantages. The entire game is based around spelling. This helps in expanding the vocabulary and they get a better grasp on the spelling of words. Scrabble forces the players to use their creativity. Your kids will definitely think of a word that will play off of a previously spelled word while playing, thus nurturing their creativity and memory skills. Each letter in the game has a point value, so players use math after playing each word – this will enhance the mathematical skills in your kids. Overall, scrabble is a very good game to boost IQ in kids.
Video Games
Video games are a great way to stimulate the brain. They allow your kids to think differently. Look for games that provide them to solve or force them to think quickly. Video games lead to more efficient brain activity, as while playing, your kids will become more proficient at the game. They stimulate the brain to think more than just using reflexive actions, and thus enhance IQ. One of the disadvantages of video games is that children cannot spend a lot of time in front of the screens. So make sure that you monitor this activity.
Playtime Dos and Don'ts
Always give your children choices. They learn best when they have open-ended choices about what they are playing. Do not redirect them as you may be bored watching your kids playing the same game for longer time. Give them something new to interrupt their fantasy and try something new. Allow your kids to make mistakes and get frustrated a little – it is fine. Do not intervene and allow them to think of a different approach on their own. Praise for sure, but do not overpraise.
Give a specific compliment and always allow the chance to them to improve more. Ask questions like what they think about their moves in the games, why they did it, what they thought of while taking such move – it makes it more interesting. Keep the playtime on, and observe how it boosts your kids' IQ.

How to improve the brain power of kids? Why is it necessary to encourage kids to play certain indoor games? Which activities can help
to boost IQ of kids? Discuss here.