Intelligent Child Topics..
Know What Your Child Is Reading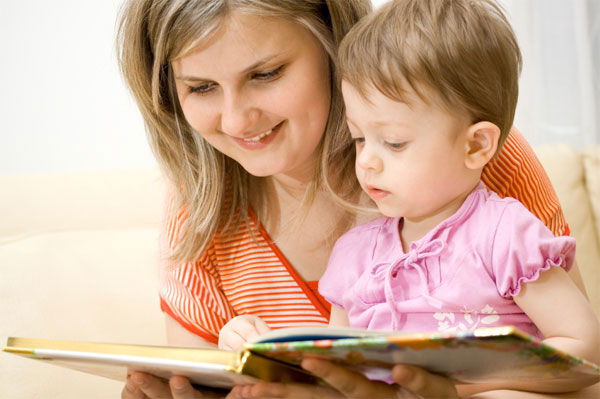 Not every book is right for every child. Children mature at different rates. They have different interests, reading abilities and life experiences. Librarians, while glad to share their expertise, believe that decisions about what materials are suitable for particular children should be made by the people who know them best - their parents or guardians. The American Library Association offers the following tips to help parents guide their children's reading and library use:
Allow your kids to explore the public library and remember that children and teens are naturally attracted to materials intended for them. They are generally not attracted to materials that are too advanced for their reading or maturity levels.
Provide clear guidelines for your children. Let them know there are subjects or areas that you prefer be off limits and explain why.
Get to know your public and school librarians. Librarians know best what is in their collections and are experts at selecting materials for children of varying ages, interests and abilities.
Introduce your children to the librarian and encourage them to seek hisher guidance. The American Library Association and many local libraries publish helpful lists of award-winning children's books and other guides to good reading for children from babies to teens.
Have a special shelf at home for library materials and take time to familiarize yourself with them. Review all reading lists sent home by classroom teachers. If you have questions or concerns, feel free to discuss them with the librarian or teacher. He or she may be able to provide an alternative for your child.
Talk with your children about what they are reading. This will give you insight into their special interests and concerns. If you feel a book or other item is inappropriate, take the opportunity to express your concerns in a nonjudgmental way.
Remember that reading is not the same thing as doing. Many young people seek information from libraries that they are embarrassed or are afraid to ask an adult. A factual book, unlike hearsay from friends, can ease their fears or may keep them safe from harm.
Learn more about how to evaluate children's books. Most libraries provide books and brochures with guidelines about what is appropriate and appealing to various ages. Read book reviews and review materials yourself to determine if they are appropriate for your child.

Good Books For Kids: A Good Place To Start
Every child's life should be filled with books-at home, at school, in the library-to share with a parent or caregiver, to read, to learn from, and to enjoy. The following list, prepared by the Association for Library Service to Children(ALSC)/Association of Booksellers for Children (ABC) Joint Committee some of the best, most fun and most inspiring books available today for children.
Ask your librarian or bookseller for more good books like these.

For more good books, videotapes, recordings and other children's resources recommended by the Association for Library Service to Children, click here.
Ages 6-8


| | |
| --- | --- |
| Allard, Harry and James Marshall | MISS NELSON IS MISSING |
| Cameron, Ann | STORIES JULIAN TELLS |
| Cleary, Beverly | RAMONA books |
| Cole, Joanna and Bruce Degen | MAGIC SCHOOL BUS series |
| Cooney, Barbara | MISS RUMPHIUS |
| Flournoy, Valerie and Jerry Pinkney | THE PATCHWORK QUILT |
| Fox, Mem | WILFRID GORDON Mc DONALD PARTRIDGE |
| Gardiner, John R. | STONE FOX |
| Hoffman, Mary and Caroline Binch | AMAZING GRACE |
| Lobel, Arnold | FROG AND TOAD series |
| Parish, Peggy | AMELIA BEDELIA |
| Steptoe, John | MUFARO'S BEAUTIFUL DAUGHTERS |
| Van Allsburg, Chris | JUMANJI |
| White, E.B. and Garth Williams | CHARLOTTE'S WEB |
| Wilder, Laura Ingalls | LITTLE HOUSE series |
Ages 9-12


| | |
| --- | --- |
| Alexander, Lloyd | PRYDAIN CHRONICLES |
| Atwater, Richard | MR. POPPER'S PENGUINS |
| Babbitt, Natalie | TUCK EVERLASTING |
| Banks, Lynne Reid | THE INDIAN IN THE CUPBOARD |
| Blume, Judy | ARE YOU THERE, GOD? IT'S ME, MARGARET |
| Burnett, Frances Hodgson | THE SECRET GARDEN |
| Coerr, Eleanor | SADAKO AND THE THOUSAND PAPER CRANES |
| Cooper, Susan | THE DARK IS RISING |
| Freedman, Russell | ELEANOR ROOSEVELT |
| George, Jean Craighead | JULIE OF THE WOLVES |
| Juster, Norton | THE PHANTOM TOLLBOOTH |
| L'Engle, Madeleine | A WRINKLE IN TIME |
| Lowry, Lois | NUMBER THE STARS |
| MacLachlan, Patricia | SARAH PLAIN AND TALL |
| Taylor, Mildred | ROLL OF THUNDER, HEAR MY CRY |
Ages 12-14


| | |
| --- | --- |
| Avi | NOTHING BUT THE TRUTH |
| Avi | THE TRUE CONFESSIONS OF CHARLOTTE DOYLE |
| Cole, Brock | THE GOATS |
| Cormier, Robert | THE CHOCOLATE WAR |
| Frank, Anne | THE DIARY OF A YOUNG GIRL |
| Jacques, Brian | REDWALL series |
| Lee, Harper | TO KILL A MOCKINGBIRD |
| Magorian, Michelle | GOODNIGHT, MR. TOM |
| Myers, Walter Dean | FALLEN ANGELS |
| Myers, Walter Dean | FALLEN ANGELS |
| Paterson, Katherine | JACOB HAVE I LOVED |
| Paulsen, Gary | HATCHET |
| Salinger, J.D. | THE CATCHER IN THE RYE |
| Staples, Suzanne | SHABANU |
| Tolkien, J.R.R. | THE HOBBIT |
All Ages


| | |
| --- | --- |
| Aesop | AESOP'S FABLES |
| Andersen, Hans Christian | HANS CHRISTIAN ANDERSEN'S FAIRY TALES |
| Anno, Mitsumasa | ANNO'S JOURNEY |
| Cohn, Amy, ed. | FROM SEA TO SHINING SEA: A TREASURY OF FOLKLORE AND FOLK SONGS |
| D'Aulaire, Ingri and Edgar P. | D'AULAIRES' BOOK OF GREEK MYTHS |
| Durell, Ann, ed. | THE DIANE GOODE BOOK OF AMERICAN FOLK TALES & SONGS |
| Hamilton, Virginia | THE PEOPLE COULD FLY |
| Kennedy, X.J. | TALKING LIKE THE RAIN |
| Macaulay, David | THE WAY THINGS WORK |
| Milne, A.A. | WINNIE THE POOH |
| Prelutsky, Jack | THE NEW KID ON THE BLOCK |
| Prelutsky, Jack | RANDOM HOUSE BOOK OF POETRY FOR CHILDREN |
| Robinson, Barbara | THE BEST CHRISTMAS PAGEANT EVER |
| Silverstein, Shel | WHERE THE SIDEWALK ENDS |
| Singer, Isaac Bashevis | ZLATEH THE GOAT AND OTHER STORIES |
You may also be interested in:
Back to Previous Page | More on Intelligent Child Index