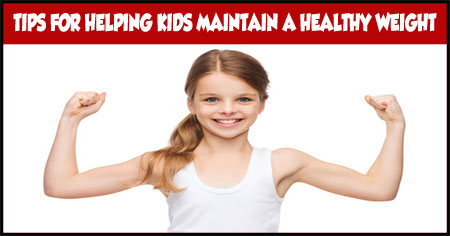 Encouraging kids to maintain healthy weight is essential so that they follow this habit throughout their life. Read on to find tips for helping children maintain healthy weight right here.
The effects of obesity amongst children are now one of the most widely discussed topics in the world of nutrition and child health. As a parent it is your duty to ensure that your child stays within the
healthy range of weight
otherwise your child may be exposed to several forms of diseases like high blood pressure, cholesterol, cardiac problems, bone problems etc. if you employ a structured approach then it is not at all difficult to motivate your child to remain at a healthy weight. Here are some of the steps you can take.
Become a Role Model
In order to stress the importance of remaining healthy and losing the excess weight it is not merely sufficient to give advice. Children will observe and follow you as an example so does try hard to become a role model for them. Make the decision to consume the right groups of food and become physically fit. If your child sees you making those choices then following your example and maintaining a healthy weight will become more achievable.
Eating healthy
food as a family is also easy to achieve as all members of the family can alter their eating habits by changing the kind of food that is brought into the kitchen.
Follow the 40 Minute Rule
Make sure that your child/ children engage in 40 minutes of physical activity at least 5 times a week. The 40 minutes do not necessarily have to come together; they can all be shorter time frames which add up to 40 minutes at the end of the day. Remember that children will feel demotivated if you introduce
exercise
to them as a chore.Make exercise fun for them and they will be more likely to feel engaged. Aerobic activities constituting of dancing, running, skipping games will be perfect for children. For muscle building activities it is good to make them climb playground equipment and trees. The bone building activities like learning to jump the rope or playing the basketball is also recommended. If all fails then bring home dance videos of the favourite celebrities (whom your kids idolize) and dance along with your kids to the music. When kids are involved in physical activities, they tend to feel hungrier and do not
make fuss while eating
.
Become Organized About Exercise
Treat exercise as not a discrete event but an integral part of your life. Your kids should be able to choose the kind of exercise activities they want to engage in. if you want you can start off really small by biking together to the library or taking a jog together. Sit down with your children and make a family exercise sheet by filling up which activities or exercises are to be done on what day of the week. Remember that if you start missing exercise sessions then sooner or later your kids will also follow your example. Become organized and disciplined and put exercise as one of the top family priorities.
Reward on Achievement of Goals
Once the plan of eating healthy and exercising daily is underway then slowly you will find your kids moving towards their ideal healthy weight. Remember that children love to be appreciated and rewarded so recognize their efforts as they achieve their monthly or fortnightly weight loss goals.Reward your kids as they lose weight by taking them out for a movie or buying them new clothes or video games or engage them in some other activity which they love. Rewarding and recognizing weight loss milestones will make your child more confident in the ability to lose weight through concerted plan of healthy eating and exercise.As a parent you must remember to be supportive and encouraging to your child in context of their weight management efforts. Every single little step towards a healthier weight does make a big difference.
How to motivate kids to exercise regularly? How to encourage kids to eat healthy? Is it necessary for skinny kids to exercise? Discuss here.